Kuryvial tops men's golf field
Posted on August 14, 2019 by Taber Times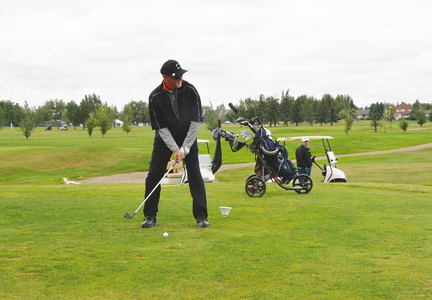 FIELD OF CHAMPIONS: Rob Fisher prepares to drive the ball down course during the Men's Club Championship at the Taber Golf Club on Saturday afternoon. TIMES PHOTO BY TREVOR BUSCH
By Greg Price
Taber Times
gprice@tabertimes.com
There was plenty of brotherly love at the men's club championship this past weekend at the Taber Golf Club.
Brett Kuryvial was able to register rounds of 74 and 72 to earn a three-stroke victory over his brother Brandon.
"I had a three shot lead after the first round and played even par the second day," said Kuryvial. "I just didn't get into any trouble. I never made worse than a bogey in both rounds. I didn't get into any major trouble getting into hazards or going out of bounds, keeping the ball in play. I don't hit it as far as some people, so I try and hit the fairways and stay out of trouble."
With temperatures sub-par and at times rainy conditions throughout the weekend, Kuryvial added it actually helped course conditions on and around the greens.
"The conditions were actually awesome I thought. A lot better than I was expecting them to be (with weather reports). The rounds were pretty close to average for me," said Kuryvial. "With the rain, everything was a little softer. The greens were soft, so the balls were stopping and that make it easier. With a little bit of moisture, the greens weren't as fast. The course played well."
Brett's brother Brandon was actually not in the final foursome, so that separation kept the nervousness at bay, as Brett was unaware of how big of a charge his sibling was making in an impressive four-under final round.
"The guys in our final group I beat by quite a few. A couple guys imploded. Being in a different group, I didn't know what he (Brandon) had. If I knew he was as close as he was, I would have got a little more nervous than I was," said Kuryvial of his brother who was actually seven back heading into the second day of play.
"Most years we are contenders. I wouldn't say there's smack talking, but we like to beat each other for bragging rights," Brett continued with a chuckle.
Other Taber Golf Club results included Alanna Makarchuk winning the Ladies Championship, Phyllis Carlsen earning the Senior Ladies title, Milan Kosic taking Senior Men's honours, Monte Turner winning Super Senior Men's and Lyndon Kuryvial winning the Junior Club.