Rebels on the lookout for gridiron players
Posted on August 7, 2019 by Taber Times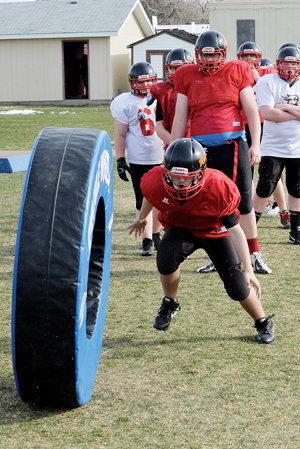 TIMES FILE PHOTO
By Greg Price
Taber Times
gprice@tabertimes.com
As the summer continues to wind down, thoughts go to the fall and with it, training camp for high school football.
The coaching staff of the W.R. Myers Rebels is expected to be the same, with Jason Jensen at the helm along with focusing on 'D, Garrett Simmons the offensive co-ordinator and Adam Hughes as an assistant coach, along with some parent helpers along the way. "We will be doing an equipment fitting and some testing on Aug. 14 and 15 and the first official day of practice becomes the 16th," said Jensen as anticipation builds for another successful season of Rebels football.
A roster that is expected to see plenty of change with many impact graduating seniors, Jensen encourages both returning and new players the importance of training camp before the fall high school gridiron season. Even if someone has never played one down of football in atom, pewee or bantam, Jensen encourages kids to give it a shot.
"We've had lots of kids who have never played before who have turned into great football players. Some guys walk on the field and they make an impact immediately," said Jensen. "It doesn't matter your level of experience or anything like that. We will take you on the team and we got a spot for you. That's the wonderful thing about football."
Graduating a solid class of seniors, including three that have gone on to the next level of football (Corny Howatt, Mike Sawatzky and Johnny Tams) to go with Division 'B' league all-stars Brett Andrus, Denzel Gross, Ashton Werewka and Kadin Reynolds —prominent roster spots will be there for newcomers and returning players alike.
"This year in particular, we graduated a stellar senior class. That means there are opportunities available and lots of spots where nothing is written in stone. I always give every player a chance to earn their spot, but there's a lot of vacancies this year," said Jensen. "Playing time is earned by merit. The guys that are out there all the time at practice, they have a much better chance of proving to the coaching staff that they deserve a spot."
Having coached at the pewee, bantam and high school level in Taber, coach Jensen noted while the principles of the sport stay the same, how you deal with the personalities change as kids get older.
"At the end of the day, football is football. It's just a matter of how you relate to the players. I've always been a big proponent of doing my best at treating my high school players like adults," said Jensen. "I put the responsibility on them to make it to practice, I put the responsibility on them to put in the hard work in the offseason. I don't call home to Mom and Dad to make sure they are coming to practice. If I have to call your Mom and Dad about something, it's gotten really bad. I put the onus on the player, just like grades. When you are in high school football you have to keep your grades up. At bantam and peewee, you go a little more to parents with those problems."
The W.R. Myers Rebels have made it to the final four of provincials in Tier IV the last few seasons and Jensen noted expectations were the program would drop off from the year before and it hasn't. The head coach is going into the 2019 season with an open mind on expectations.
"We are getting to be known as a bit of a powerhouse program, at least in Tier IV. Coaches from around the province know about us now. With all the seniors we have graduated, a lot of people are expecting us to take a step back. I don't know, after our spring camp, I saw a lot of good things and I think we are going to shock a lot of people," said Jensen. "I expect us to be a very good team and contending for a provincial title for the fourth year in a row. I think we have the players to do it."
Jensen has loved the game of football since he was a child and how it looks in Taber in high school will change if the program does not get enough confirmed, rostered players.
"If we can't keep our numbers up, in 2022, we will be forced to drop to nine-man football. It is what it is, but we would love to keep playing 12-man and I think most people would agree with that," said Jensen. "We need to get the guys out. Football is one of those games that I have said over and over and over again, it is a sport where there is a place for every kid. There are not a lot of sports like that — big, small, fast, slow, I have a place for you on this team. There is a place where you can contribute to this team. There isn't a player on the roster that doesn't contribute to the team."
In 2022, high school programs will have to have 30 players rostered at the beginning of the season and 24 players dressed at the beginning of any game to play 12-man football.
If you are going into high school this fall and would like to try out or learn more about the W.R. Myers Rebels football program, you can call or text Jason at 403-795-3469.
W.R. Myers camp starts on Aug. 14 and 15 with equipment fitting and testing, with official training camp with drills starts on Aug. 16. Camp goes from 6-8 p.m. until school starts, then switches to 4-6 p.m.