Brantner helps Canada earn split
Posted on August 7, 2019 by Taber Times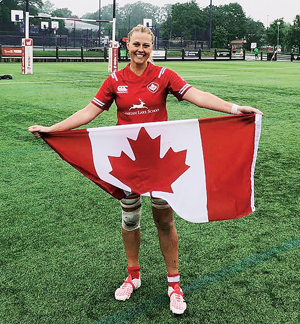 NATIONAL PRIDE: Keegan Brantner continued her international rugby experience by playing for the Canadian women's U20 team in England for the Tri-Nations Club. TIMES PHOTO SUBMITTED BY HEATHER BRANTNER AND NEIL KENNEDY
By Greg Price
Taber Times
gprice@tabertimes.com
Taberite Keegan Brantner continues to make an impact on the local, provincial and national rugby stage.
Brantner recently returned from a tour with the U20 Canadian women's rugby team at the Tri-Nations Cup in Loughborough, England that saw the team compete against the USA and host England.
Canada managed to upend USA 24-7 in a relatively close match until near the end.
"The whole 80 minutes they were a really physical team. That was our first game for the 24 of us playing together and was a good game for us to start off with," said Brantner. "It's hard to come in and you don't really know everyone and you are still learning names. But this year, there was a top-40 camp where a lot of the girls got to meet each other before and play a couple of exhibition games together which is really nice."
Raining the whole day, Mother Nature finally co-operated with the skies clearing with Canada's match against England, making for cooler temperatures than against the USA.
"England is obviously a very skilled and knowledgeable team and played together a long time. We came out really hard and we were in their 22 most of the first half which was pretty exciting for us," said Brantner of the eventual 24-15 loss. "They took the lead late which was very heartbreaking for us. They are a lot bigger than what our team was, so they powered through us. They had a couple of mauls we struggled to defend against."
At first, it looked like Brantner would not even be able to travel with the team to Loughborough given she was in a grey area of qualification.
"I wasn't actually at any of the tryouts because I was an overage player and they thought I was too old to go to the tournament. But, the coach phoned a few weeks before the tournament and asked me to come," said Brantner.
"They changed the rules, being it is U20, last year if you were 20 and under you could play regardless of your birth year. This year they wanted to keep it to 1999s and 2000s, but since I was not 21 yet, I was technically still eligible. They changed their mind last minute."
A former standout with the W.R. Myers Rebels high school girls rugby program, Brantner also plays club rugby and is preparing for her University of Lethbridge Pronghorns season in her position of lock, coming off the heels of her international experience, as she continues to evolve and improve as a player.
"Most people are pretty versatile and have played in a couple of different positions, even within the forward pack, transitioning from the second row, to flank to eighth. I have only ever played second row —maybe one club game I've played a couple scrums at flank," said Brantner. "I'm a pretty hard-working player who hits a lot of rucks and try and make a lot of tackles. I'm high energy on the field and try and bring players up. It gets really tiring once you hit as you hit the 60th minute. Everyone's energy is low and I think it's really important as a player to try and bring everyone's energy back up. I really excel on line-outs as well as a jumper offensively and defensively. That's a skill I have definitely worked on and at university, it's a huge asset if our team is able to steal a couple of line-outs and regain possession."
Competing locally, provincially, nationally and internationally, as a young rugby player, Brantner has seen how Canada has grown in prominence in girls/women's rugby.
"It's definitely getting a lot better and the popularity is really increasing which is terrific. The senior women were at a tournament a few weeks ago and did really well. Canada has been quoted by the New Zealand coach as 'having the best scrum in the world' which is very exciting for us moving forward," said Brantner. "For my university team, it is definitely a top league, especially compared to the States. If you keep building the university and youth leagues in skill, it will help build for the international stage."