Outpouring of support for Orban memorial
Posted on July 31, 2019 by Taber Times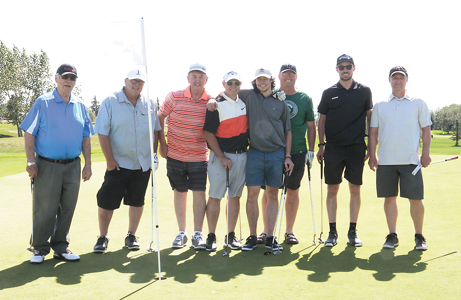 MAKING THE ROUNDS: The Chris Orban Memorial Golf Tournament was filled to capacity to either golf or help volunteer for the first annual tournament, celebrating a passionate man who lost his courageous fight to a brain tumor late last year. TIMES PHOTO BY GREG PRICE
By Greg Price
Taber Times
gprice@tabertimes.com
To say the first annual Chris Orban Memorial Tournament was a success would be an understatement.
The tournament was filled to capacity with groups of eight at tee boxes on a sunny Saturday at the Taber Golf Club.
"It means a lot to have such an amazing support system. The love and support from family and friends and the community of Taber has been heart warming," said Brance Orban, co-organizer of the memorial tournament, and eldest child of Chris and his wife Val.
Chris Orban passed away after a lengthy battle with a brain tumor, but the heart and determination he showed in his young hockey career mirrored his love for his family, going twice past his life expectancy after his diagnosis to spend every day he could with family and friends.
Brance continues to play professional hockey in Europe, much like his father did when he played in Scotland. Hockey links were also with the Olds Grizzlys/Taber Golden Suns.
"My dad battled hard and he has always been known for his work ethic and putting other people before him. He was the most loving and caring selfless guy I have ever met."
"His determination and perseverance was very inspiring. He is definitely our hero," said Brance. "Golf has always been a big part of our family's life. Grandpa Joe use to run the Taber golf course and all his sons worked for him there. The golf course is a place where amazing memories pour in every time we are there and it's usually because of the time spent with friends and family, and not because of the golf. That's why we wanted to have this tournament. To remember a great man and to spend time with family and friends. It was a great day."
The tournament managed to raise $1,700 and it will be donated to family in need that goes through the same trials the Orban family did as Chris battled his brain tumor in hospitals with loving family by his side.
"We will be donating it to family that is going through a similar situation we did with dad in the hospital. There are a lot of unexpected expenses and we just wanted to try and help out a little so a family can worry less about financial stress during a difficult time and focus on their loved one," said Brance.
The Orban family was in full force on Saturday at the Taber Golf Club participating or volunteering at the tournament, except for Shelly and Sarah Orban. But even they were there in spirit with Sarah inheriting the athletic genes, being en route as an Olympic track cyclist hopeful. Shelly attended in support of Sarah at a provincial race in which she was victorious, winning gold in all five of her events.
"Sarah ended up winning for Pistol (Chris' nickname)! Auntie Shelly and Sarah sent their love to us from Calgary," said Brance.