Family connection in European hockey
Posted on July 31, 2019 by Taber Times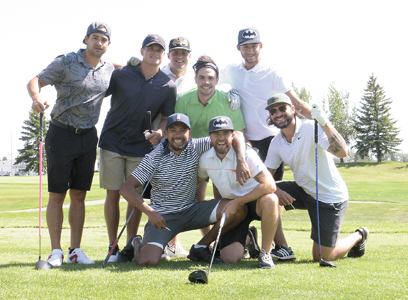 FRIENDS AND FAMILY: Brance Orban (front middle) was able to get a round of golf in at his father's memorial golf tournament with a close group of friends before flying back to Europe to continue his hockey career, where he will be joined by cousin Blake. TIMES PHOTO BY GREG PRICE
By Greg Price
Taber Times
gprice@tabertimes.com
After helping organize and participate in the First Annual Chris Orban Memorial Golf Tournament this past weekend at the Taber Golf Club, Brance Orban has flown overseas to continue his professional hockey career in Europe.
It will be Orban's seventh season in Europe and his third season playing with MAC Budapest in Hungary.
Orban will be trying to build off of the success of 2018 that saw his team win the championship with MAC Budapest now playing in the top Slovakian League (Tipsport Liga).
"Also in 2018, I scored my first national-team goals against Poland in the 90 years of Hungarian hockey anniversary game. It was a pretty special feeling to win and score a couple goals wearing the jersey of my family heritage," said Orban, adding now he, and cousins Blake and James Orban all have their Hungarian citizenship now.
"We know that would make our great grandparents extremely happy."
Orban describes Tipsport Liga as a strong level of hockey on the world scale.
"It's physical, dynamic, skilled and very fast. All of our games are played on the Olympic size ice sheet, so you have to be able to skate over there," said Orban.
MAC Budapest will have even more of an Orban family influence this season as Brance the forward (left wing), will be joined by his cousin Blake, defenceman.
"He is a great puck-moving defensemen with a lot of versatility in his game. I rely on my hockey sense to try to anticipate where the play will be in different situations, it meshes well with the big ice and fast play because I am able to read and react to make plays," said Orban, adding cousin James is committed to play hockey at UBC, and has eyes towards Hungary as well when he graduates.
The league plays all its games (55 regular-season games plus playoffs) in Hungary and Slovakia, with the longest bus trip being seven hours.
"Fans are very energetic and they live for the team they cheer for over there. They sing all game long and bang drums. It's very exciting as a player and a fan. Our team goal would be to make the playoffs and try and go on a run," said Orban. "Blake and I are both expected to provide offence and to be reliable defensively."