New trails blazed for running enthusiasts
Posted on July 24, 2019 by Taber Times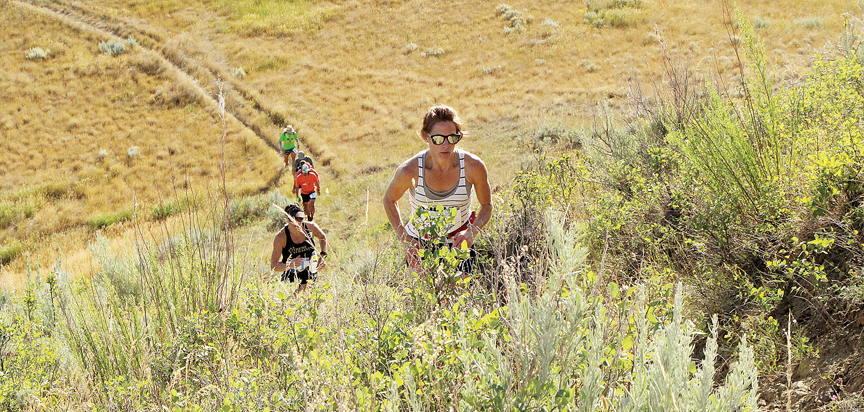 TIMES FILE PHOTO
By Greg Price
Taber Times
gprice@tabertimes.com
A pilot project that looks like it had plenty of wings for future events had numerous runners converge to M.D. Park.
Taber's Tuff 25/12.5 has numerous local and out-of-town runners compete.
Last year, Jeff Hamilton registered for the Lost Soul Ultra Race in Lethbridge and was training for it while living in Taber, finding the landscape of hills where a race could possibly be organized in Taber.
Talking with co-director Jeremy Kramer at a park run about running in the coulees, off the cuff bouncing ideas off of each other, they thought a local run could be possible.
"Jeremy is the trail boss, and he mapped out a 12.5 k route and then you can do two loops for 25 k. We started at the M.D. campground and then ran up river. Part of the run was on M.D. land near the campground, but once you get past the bridge you get into townland. We were running deer and bike trails," said Hamilton. "You go on both sides of the coulee, so if you were on one side, you could see runners on the other side of the coulee. There is a two-k loop that goes goes along the cemetery, you run up there and then you run to around the shooting range and then back around the river to the campground again."
Taber's Tuff on July 13 had visions of keeping it to 50 participants for its first race and ended up with 54 total. There were a hard-core group of runners at the event from Lethbridge who participated who have a trail-running group. Runners were also from Calgary, Sherwood Park, Grassy Lake, M.D. of Taber/Taber.
"The reason why we wanted, to do this race at this time and at this distance was to give people who hadn't had a lot of experience trail running, give them a taste of what it was like. The Lost Soul starts at 50k and this year it went up to 200k. A lot of people train for that event which is a premier trail running ultra in Western Canada and the western States," said Hamilton. "Having the 25k distance helps with that training. But we also wanted to appeal to people who had never done trail running before, but still wanted a challenge which is why we also had a 12.5."
Requests for next year is to perhaps have an even smaller distance to attract young families with kids to take baby steps into the pursuit.
Benjamin Broadbent ended up having the top time for the 25-kilometre event for men at 3:02:13, with the top female runner being Angie Higa close behind at 3:03:03. The 12.5 kilometre distance had plenty of close finishes as well, as Taber's Vance Kramer was at the top of the heap at 1:29:09 while Jeff Kramer was second at 1:29:27 for males.
Lethbridge's Andrea Lammers-Pottage was first for females at 1:33:36, while Cranford's Staci Muller was second at 1:37.11.
"The nice thing is we had a wide range of ages. We had some young people and then some people in their 60s, maybe even 70s who ran," said Hamilton. "It appealed to lots and lots of people. If you had never run before, it'd probably be very intimidating. If you are fit enough to run a 5K or 10k race, then this would probably be a pretty good challenge for you."