Town helping fund golf club parking lot repairs
Posted on July 10, 2019 by Taber Times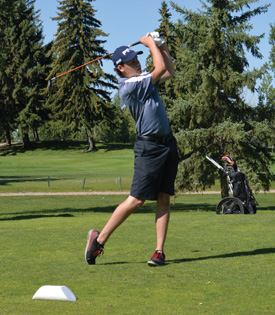 TIMES FILE PHOTO
By Trevor Busch
Taber Times
tbusch@tabertimes.com
In a cost-sharing arrangement with the Taber Golf Club, the municipality will be footing most of the bill for repairs to the club's parking lot.
Following the closed session portion of the June 24 meeting, town council voted unanimously to approve asphalt repairs to the club's lot with funds to be allocated from the town's general operating revenues.
Through the resolution, the club is contributing $2,000 while the town has establishing a firm ceiling of $8,000 to complete the repairs.
"It was up to $8,000 to support it, to help with our Public Works team, with their available capabilities for the golf course itself," said Mayor Andrew Prokop.
Prokop suggested the repairs may be significantly less than $8,000, but council wanted to set aside an adequate amount to complete the project without any financial hiccups.
"That was earmarked as a maximum, with a $2,000 allocation offer from the golf course board. We're not necessarily expecting that it's going to be that high, it was just suggested to have that kind of money available if need be. It may be less than that, but it won't go higher."
When the issue was first brought up at the June 10 meeting by Coun. Joe Strojwas, Coun. Garth Bekkering had suggested first investigating the town's lease agreement with the club to determine its responsibilities with regard to parking lot repair.
"I'm not opposed to this at all, but I guess it depends on what our responsibility to the golf club and the parking lot is," said Coun. Garth Bekkering. "What does the lease say, if there's a lease?"
CAO Cory Armfelt had concurred about first determining the town's responsibilities before pushing forward with any repairs.
"That's something that we would want with the price of it, to give us direction to go and do some research and bring that information back to council."
Prokop had asked Strojwas to help clarify who might ultimately be responsible for maintenance and repair of the club's parking lot.
"I think the golf parking lot portion is their own private property. I think the town owns the golf course itself, but the buildings there in the parking lot I believe is their own."
Strojwas then put forward a motion to direct administration to contact the Taber Golf Club, assess the costs of repair, and report back to council on June 24.
The motion passed in a 6-1 vote with Bekkering in opposition.
"I'll speak against the motion," said Bekkering on June 10. "I think if it's private property, the town has no business going on there."
Prokop suggested town council had not been overly concerned with the details of the lease agreement before making their decision on June 24.
"Technically, that's right — it becomes a little confusing that way — but overall it's a non-profit organization looking for some assistance for some recreation that's of benefit to our entire community, and that's kind of how we looked at it. We have the means, we have the capabilities, and the expertise to take care of that with limited funds to help the golf course, and community development as a whole."