Siblings compete at golf provincials
Posted on July 10, 2019 by Taber Times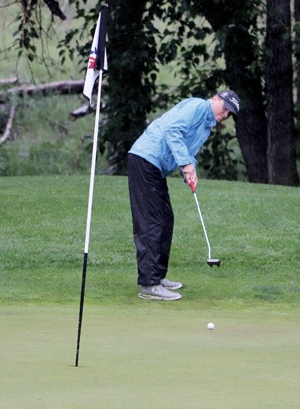 TIMES FILE PHOTO
By Greg Price
Taber Times
gprice@tabertimes.com
The brother/sister duo of Andrew and Alanna Makarchuk made their way to the Alberta Junior Provincial championships in High River earlier this month that saw their results qualify them for further tournaments.
Andrew Makarchuk finished 21st out of 109 golfers with rounds of 69, 74, 74, and 82.
Andrew came flying out of the gate early, being in fifth place overall with his impressive first-round 69.
"Everything was just solid. I had two birdies and one bogey. It was a really stress-free round. I didn't leave myself a lot of long par puts. The one bogey was kind of fluky. Having 15 pars in the round, not a lot was happening, but in a good way," said Andrew Makarchuk.
Makarchuk admitted his game got into his head as the tournament progressed as his 82 had him fighting his putter all round long.
"I got a bit ahead of myself and I lost almost all of my feel on the greens. My putting broke down on and around the greens. I started to fight myself and the course (with the weather) at the same time which is never a good combination."
Mother Nature was a factor for the tournament, changing the way the course played dramatically from the first round to the last.
"I thought the course was extremely easy unless conditions got tough which they did. It rained two out of the four days where you saw the scores rise. The course changed quite a lot with so much rain on it. The fairways became a lot softer. It changed everything, the rough got a lot thicker and it messed with the greens where you were playing with four different green speeds over the four days with the different amounts of water."
Nevertheless, Andrew Makarchuk's finish has qualified him for the Canadian Junior Nationals in Hartland New Brunswick, where he will play at the Covered bridge Golf and Country Club from Aug. 12-15.
"I'm definitely going to have to adapt. I have never played that far east. It's going to be very exciting playing with the best junior golfers in Canada. A lot of these guys will go pro and it's kind of fun just to see how good everyone is and how my game compares to the best in Canada," said Andrew Makarchuk who should be able to get one or two practice rounds in before Canadian Nationals where he hopes to make the cut to be able to keep on playing.
For now, Andrew Makarchuk will be concentrating on the Alberta Men's Amateur Tournament next week, up at Wolf Creek in Ponoka on July 16-19.
Alanna Makarchuk earned scores of 88, 74 and 86 at provincials in High River, placing her 13th out of 21 golfers.
"I didn't play the first and last day well at all, but the second day made up for it," said Alanna Makarchuk who normally shoots around the low 80s. "It was my lowest round in competitive golf ever. I seemed to be dropping every putt I hit on the second day."
Alanna Makarchuk has qualified for the Canadian Junior National Girls Tournament which will be held in Lethbridge at the Lethbridge Country Club from July 30-Aug. 2.
But, she will be getting her skills honed first at the Alberta ladies Amateur Championship at the Ranch Golf Course in Acheson, Alberta which is near Edmonton which goes until Thursday.
PAR FOR THE COURSE: After nationals, Andrew Makarchuk will be returning to his post-secondary studies where he will be studying finance while playing for the golf team at Minot State University.
"School is gong really well. Personally, I didn't have the greatest year playing in only two events. This year, my game is getting better and I'll be playing in alot more events," said Makarchuk, adding the team has a new university golf coach in Kyle Knutson this year. "I'm really excited to see where the team is going this year. We have a pretty good core and I think we will make a good run at winning conference and hopefully regionals."