Taber continues boxing support
Posted on July 4, 2019 by Taber Times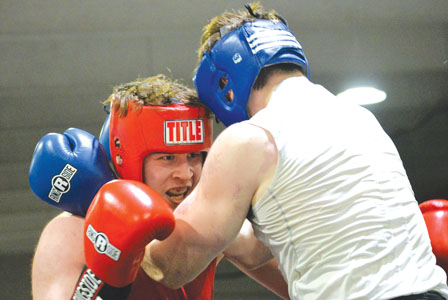 TIMES FILE PHOTO
By Cole Parkinson
Taber Times
cparkinson@tabertimes.com
The Taber and area fight scene is stronger than ever and this past weekend's boxing card highlighted it even further.
With Teofista #34 in town at the Taber Ice Arena Saturday night, the card boasted an impressive 15 matches with 11 of them featuring boxers representing Taber.
Last year's Teofista #31 in Taber featured six local fighters but this year the Taber boxing stable grew by almost double.
Taberites Wyler Langhofer, Darren Pelesky, Dustin Bell, Spencer Valgardson, Jenna Langhofer, Oscar Timofjiew, Brock Merkl, Bart Zukoski, Ryan Harkness, Brad Olson and Brent Anderson all entered the ring in hopes of exiting as the winner of the bout.
With a packed arena cheering loudly for each Taber fighter, the results, unfortunately, didn't follow as the crowd had hoped as only Pelesky would walk out of the ring with a win.
Even while the results weren't where the fighters wanted them, the night was still a big success.
"It was a great night of fights. I was super pumped with the energy, that is really what makes the fights, the energy of the crowd. Honestly, Taber does it like no other place that I have ever seen. This town comes out and supports the fights and creates an awesome atmosphere which makes my job as a promoter a lot easier," said Joel Mills who was also the trainer and cornerman for all Taber fighters. "Everybody fought hard and with a lot of heart. That is what I try to teach those guys, it isn't necessarily about winning or losing it is about getting in there a letting it all hang out." 
One of the biggest draws of the night was for the main event which featured Brent Anderson, the 2018 Golden Gloves champion.
"Brent had a great fight, the kid he fought was a super tough kid. He has been in the mix with the top guys in the province for a long time so we knew that was going to be a tough one. I think Brent will avenge that loss at some point," said Mills.
Each fight offered something different in terms of entertainment value and the Taber crowd was enthusiastic for each and every fight.
Mills himself was pleased with each and every Taber fighter who entered the rings.
"Spencer Valgardson's fight was a war and Brock Merkl's fight was a great crowd-pleasing fight. All in all, they were all pretty stellar, I was very happy with them. Both performance wise and with the way they handled themselves." 
With the Taber crowd showing support throughout the entire card, Mills is someone who can understand how the Taber fighters were feeling.
In 2017, he finally had the chance to fight in front of his home crowd and with that experience, he tried to make sure each fighter was calm when entering the ring.
"I think there was a lot of nerves and that is inevitable when you fight in front of that many of your family and friends. That is the real difficult part to handle, the nerves. I tried to make them all know no matter what happens, they are all winners. Stepping through the ropes is a win in itself," he said. "It is a different animal when you are fighting in front of your home town for sure."
Continuing from yet another successful card in Taber has left Mills with high hopes for next year's event.
With a staggering 11 Taber fighters enter the ring this year, he expects more of the same moving forward.
"Every year when I do the event, I get two, three, four guys that tell me they want to fight in the upcoming year. That is one of the best things about this town as well. I have never experienced it in my years of boxing, a place where guys are willing to get in there and try it out like they are in Taber. Everybody who has told me they want to fight has come through and tried it. It tells you a lot about the backbone of this town."
As far as support in the Taber area, Mills can't say thanks enough for backing the community has shown for the sport of boxing and the cards put on.
"Thank you to Taber for the continued support and for helping us grow the sport."