Town investigating repairs to Taber Golf Club parking lot
Posted on June 26, 2019 by Taber Times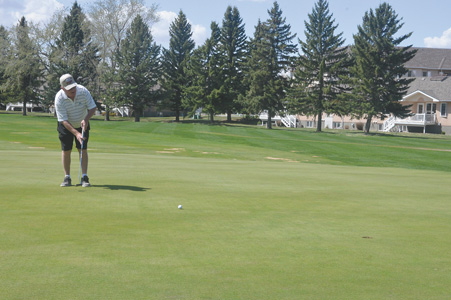 TIMES FILE PHOTO
After a request from the Taber Golf Club, the Town of Taber is investigating costs and responsibilities with regard to repairs to the club's parking lot.
"In conversation with the Taber Golf Club, they have some frost bubbles in their parking lot, and they would like to know if the town could assist them in remediating that," said Coun. Joe Strojwas at town council's June 10 meeting. "If Public Works could take a look at it and see what cost factor would be involved in that."
Public works director Gary Scherer asked for clarification of whether he was being directed to complete the repairs or investigate costs and report back to council.
"I guess it depends on how much the repairs are, but if it's an insignificant amount and the rest of council appear in agreement, to touch up those frost bubbles before they spread," continued Strojwas. "There's one alongside where the garbage trucks come to lift up the garbage, and one at the main entranceway there."
Only one councillor suggested first investigating the town's lease agreement with the club to determine its responsibilities with regard to parking lot repair.
"I'm not opposed to this at all, but I guess it depends on what our responsibility to the golf club and the parking lot is," said Coun. Garth Bekkering. "What does the lease say, if there's a lease?"
CAO Cory Armfelt was quick to side with Bekkering in first determining the town's responsibilities before pushing forward with any repairs.
"That's something that we would want with the price of it, to give us direction to go and do some research and bring that information back to council."
Mayor Andrew Prokop asked Strojwas to help clarify who might ultimately be responsible for maintenance and repair of the club's parking lot.
"I think the golf parking lot portion is their own private property. I think the town owns the golf course itself, but the buildings there in the parking lot I believe is their own."
Strojwas put forward a motion to direct administration to contact the Taber Golf Club, assess the costs of repair, and report back to council.
"I'll speak against the motion," said Bekkering. "I think if it's private property, the town has no business going on there."
Following discussion, council voted 6-1 to pass the motion with Bekkering in opposition.