Spurs dig themselves in against Knights
Posted on June 19, 2019 by Taber Times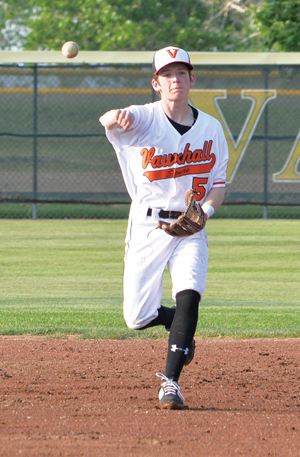 TIMES FILE PHOTO
By Greg Price
Taber Times
gprice@tabertimes.com
Lesson learned.
The Vauxhall Spurs dusted themselves off from a rough tournament of implosion State side in Billings the weekend before, and bounced back to post two statement wins in 12-2 and 5-1 victories over Medicine Hat Knights on the road last Friday.
"That tournament was sort of a frustrating one for us because before that, playing Lethbridge (10-0 win), I thought we had played our best game of the year in Game 2 of the doubleheader. In Billings in Game 4, we had 13 walks on the mound and we were averaging about four or five errors a game which was very uncharacteristic of us up to that point," said Dru Sebastian, head coach of the Vauxhall Spurs baseball club.
"We were beating ourselves up. Belgrade was the team who won it last year and they won it again this year (Spurs lost 10-8 to Belgrade). That weekend was a bit of a setback for us. We are pretty solid all across the board at all nine positions defensively."
The Medicine Hat wins came on much cleaner execution compared to the early-June Billings tournament that was littered with game play where the team could not get out of its own way with various errors on the way to a sluggish 2-2 record. Some light-hearted practices between the Billings tournament and the road games in Medicine Hat got the Spurs back on track.
"We got a lot of defensive reps in and that led to I think us not making an error in Medicine Hat," said Sebastian. " I look for clean games without free passes or missing the cutoff man, hit by pitches, passed balls, wild pitches. Medicine Hat only got one earned run both games, it puts pressure on the other team when we aren't handing over anything. It was great to see on Friday where we only gave up one earned run out of our three runs and it got us back on track."
In the Spurs wins on Friday against Medicine Hat, Alonso Tapia started on the mound and went a solid 5 2/3rds innings, giving up nary an earned run in the 12-2 victory.
"Alonso has that ability to keep the ball down in the strike zone. He's always putting the baseball in the position that the opposition can't get a whole lot of advantage on him. We played defence at a very high level behind him," said Sebastian. "He attacks hitters and gives the defence an opportunity to win games instead of just sitting back with bad walks."
Despite the lopsided score, the Spurs were in a battle until late, exploding for seven runs in a single inning, as Brady Howg would eventually shut the door on the pitching mound in relief.
Hayden Mack earned the win on the mound in the second game as a three-run inning propelled the Spurs to the 5-1 win, sparked by the bat and hustle of Vauxhall Academy of Baseball product Johnny Vulcano.
"Johnny Vulcano has nine triples on the year. He has been a triples machine for us. He had an RBI triple and brought in another on a sac fly," said Sebastian. "Medicine Hat did a very good job keeping us down a bit. We scored five runs, but we had to manufacture runs and play situational baseball to get those runs."
All the great things the Spurs did physically against Medicine Hat, it was just as much the mental strength the team showcased that pleased Sebastian in doing a 180 recovery from the Billings tournament.
"We had a lot of self inflicted wounds (in Billings) where we were punching ourselves in the face. We had a great week of practice and the kids responded. I obviously don't like to lose and the kids came in with a great attitude and great effort. They corrected their past mistakes from the weekend and it was a great learning experience."
The Spurs now prepare to hit the road on Friday for a doubleheader against Fort Macleod Royals before returning home June 27 for a Thursday doubleheader against the same Royals, starting at 6 p.m. at Jets Stadium.
The Spurs also host Lewistown Redbirds on June 30 for a doubleheader starting at 1 p.m. at Jets Stadium. The Spurs play in a Canada Day alumni game on July 1 at 6 p.m.