Rebels duo galloping along with Calgary Colts
Posted on June 19, 2019 by Taber Times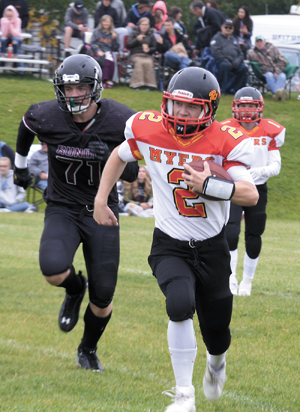 TIMES FILE PHOTO
By Greg Price
Taber Times
gprice@tabertimes.com
Two local football products have signed on the dotted line to play with the Calgary Colts for the upcoming football season.
Mike Sawatzky made the team as a defensive back and Corny Howatt will be playing on the defensive line.
The Calgary Colts play in the Prairie Football Conference. Junior football is for players aged 17-to-22, and exists as another option to university sports, for players looking to continue on with football after high school.
The duo made the team through a tryout camp back at the beginning of May.
"For Mike, he's had it in his mind for the past two years that he wanted to play somewhere after high school. We'd talked about it all through last offseason, and made a plan to get him some notice from scouts. And boy did he ever put the work in to make it happen, both in the gym, and through study, prep, and focus on his goal," said Jason Jensen, head coach of the W.R. Myers Rebels football team. "He was always a very good player, but when he got on the field for his Grade 12 season, you could tell he'd hit another level. He was a dominant playmaker as both our quarterback, and as a safety on defence, on his way to being named the MVP of our league. To add to that, he stepped up, and made a huge difference on our team with his leadership. Both myself, and Mike were in pretty constant contact with the head recruiter from the Colts, so he was on their radar, but that MVP season really turned some heads. Sure enough, after he got on the field in Calgary, it didn't take those coaches long to realize the combination of athleticism, playmaking ability, and all around football smarts that Mike possesses, and offer him a spot on the squad."
Corny Howatt's performance for the Rebels throughout his minor football career, has been one of quiet determination, where he has grown as a player every year since his bantam days.
"I don't know that he even realizes just how good of a player he is. At the beginning of the season, I took a bunch of our standout seniors aside individually, and asked them what their plans were for after high school, if they were interested in trying to continue with football. For most guys, the idea of moving away, and playing on a strange team, just doesn't appeal to them, but in Corny's case, despite his talent, he'd never even really thought about it being a possibility," said Jensen. "But with his combination of strength, speed, and athleticism, he's the type of player scouts drool over. He put up one heck of a senior season, leading the team in tackles, sacks, and fumble recoveries, on the way to being named the league's Most Outstanding Defensive Lineman. Once the season ended, he never quit working hard, hitting the gym like crazy, and trying his hardest to get even stronger. I think these scouts are used to coaches exaggerating their player's abilities, and so they didn't really believe me when I told them what kind of player they were getting. In today's game, dominant edge rushers are like gold, and so guys with Corny's abilities are invaluable."
Nothing is guaranteed for the two Rebels football products, as they will be competing for playing time with some players fours years their senior.
Training camp starts at the end of July, and junior football teams carry a lot more players than they can dress for a game, and even less players get to travel for road games. The two may face the reality of spending a season or two on the practice squad, until they are able to seize their opportunity.
"Regardless of how that goes, I'm pretty confident that both of them will give it their all, and prove to be valuable assets to the Colts organization. These boys both have every reason to be proud of what they've accomplished, they've worked extremely hard for it. And as a coach, I 'm absolutely beaming with pride," said Jensen. "For me, the best part has been that the Colts' coaches have told me how impressed they are with these boys' character. Their willingness to follow instruction without question, their team-player attitudes, and their overall work ethic."