Cancellation of pro rodeo lease emerges from closed session
Posted on June 19, 2019 by Taber Times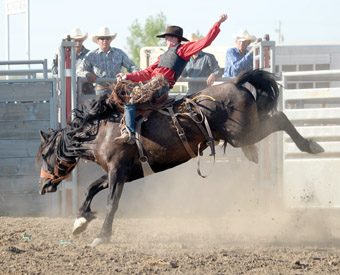 TIMES FILE PHOTO
By Trevor Busch
Taber Times
tbusch@tabertimes.com
With many questions still remaining about the Town of Taber's cancellation of the Taber Pro Rodeo Association's lease of town property, the issue would spark further controversy at town council's most recent meeting.
Originally included as Closed Session Item No. 9.1 at town council's June 10 meeting as "Taber Pro Rodeo Terminated Lease", when Coun. Mark Garner moved to adopt the June 10 agenda as presented, Coun. Joe Strojwas immediately objected.
"There's an item on the agenda that has been dealt with — Item No. 9.1 — by council several times," said Strojwas. "The last time it was dealt with, council gave some specific guidelines to administration in dealing with this item. There's no reason why this should be back on our agenda, therefore it should be deleted, and administration should proceed with those guidelines."
Following closed session discussion on Nov. 26, 2018 town council had passed a motion to issue a notice of termination to the Taber Pro Rodeo Association for their lease agreement (dated Nov. 13, 2012) effective immediately.
On Jan. 28, 2019 council had voted to extend the deadline for the removal of the association's chattels (property other than real estate) to March 31, and then on April 8 this deadline was further extended to May 30.
According to the minutes of both meetings, council's votes were not unanimous.
As the association's lease had been previously discussed by council within the past six months, this would require council to abrogate a condition of their Procedural Bylaw by a two thirds majority recorded vote in order to add the item to the meeting agenda for in camera discussion.
"Of course Councillor Strojwas is correct," said Coun. Garth Bekkering. "Unless there is a notice of motion, or a motion forthcoming to put this back on the table, this is indeed dead."
Strojwas forwarded a motion to delete Item No. 9.1 from the June 10 agenda, which was defeated in a 5-2 vote. Councillors Strojwas and Garner voted in favour of the motion.
In a follow-up by Coun. Carly Firth, council voted 5-2 to include the item on the agenda. Councillors Strojwas and Garner opposed the motion.
Town officials have been tight lipped about the motivation for the cancellation of the association's lease of town property west of Highway 864. Responding to a media inquiry at council's April 8 meeting, Deputy Mayor Carly Firth was unwilling to provide any further information about council's original decision to terminate the association's lease and order the removal of its chattels.
"Most of that discussion was in closed session due to it being a contractual matter, unless anybody would like to speak personally about their feelings on it," said Firth.
After back to back years without their flagship event, earlier this year the pro rodeo association was hoping to get back on the horse.
"We're still planning on going ahead with the rodeo. We're working on some stuff right now, there has been no real decisions made yet on what is happening but we are planning on going ahead," said pro rodeo association president Barry Jensen at the M.D. of Taber council's March 27 meeting. "We have got support from the CPRA (Canadian Pro Rodeo Association) to do it if we want to do it."
Jensen was seeking M.D. council's assistance in covering the $1,970 cost of insurance for the event, but was questioned by councillors about potential locations now that the town has terminated the association's lease.
"We are working on it, that is all I can say," stated Jensen.
The Taber Pro Rodeo had been the longest consecutive pro rodeo in Canada for 77 straight years up until 2017. In the June 10 agenda, town administration had cited Sec. 24(1) of the Freedom of Information and Protection of Privacy Act for taking the discussion in camera "to prevent disclosure of advice from officials, that could reasonably be expected to reveal advice or analyses developed by a public body."