Krizsan lands in golden territory
Posted on June 12, 2019 by Taber Times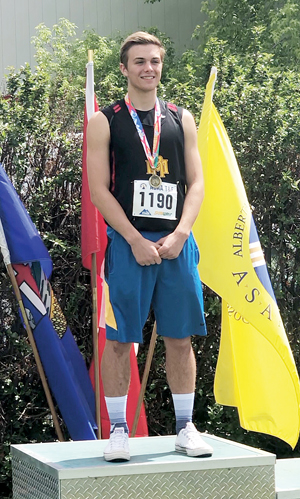 GOLDEN CHILD: Barnwell's Kevin Krizsan stood at the top of the podium for junior men's javelin at the 2019 ASAA Track and Field Provincials in Calgary over the weekend. TIMES PHOTO SUBMITTED BY DERRICK KRIZSAN
By Greg Price
Taber Times
gprice@tabertimes.com
Kevin Krizsan saved his best throw for his biggest stage, and in the process, made some W.R. Myers School athletic lore.
After a streak of four zone javelin titles, the Barnwell resident left the Alberta Schools Athletic Association Track and Field Provincials a gold-medal champion.
Krizsan was one of 16 competitors in the junior category among the various zones, in which he was slated to throw fourth.
"What I thought was my biggest competitor (Cameron Kuziak from Bishop O'Byrne in Calgary) was throwing first. From doing my little bit of research, he looked like the guy to look out for," said Krizsan. "His very first throw was (40.44 metres) and I thought 'I can beat that' and my confidence went up."
So too did Krizsan's first throw which equaled 50.03 metres, clearing any throw from the first round by more than five metres.
Nevertheless, there was still plenty of drama to be had, because Kuziak beat Krizsan's first attempt, with his second throw of 50.60 metres. Krizsan immediately answered the call with his second throw of 51.75 metres.
"We were blessed, there was no wind and there was sunshine which kept me nice and warm," said Krizsan. "It didn't start raining until after the competition."
That throw would end up being the provincial-winning throw, Krizsan's personal best, as four more rounds of throws could not best it.
But a darkhorse did emerge that made Krizsan sweat a little as Colton Savard from William Aberhart High School in Calgary delivered a silver-medal throw of 50.83 metres in his third attempt.
"We are all standing 50 metres back and looking out. A metre, you can't tell. I honestly didn't know," said Krizsan as anticipation grew as Savard's throw was being measured. "To me I was thinking this could be the new winner, this could be second or third place. I knew it was close, and I was definitely not 100 per cent confident."
But as the smoke cleared, Krizsan was crowned the gold medalist in junior 700g javelin. Krizsan registered two of the four throws that broke the 50-metre barrier.
In junior high, there are no provincials in track and field, with zones being your highest level of competition. Krizsan soaked in his first provincials experience, taking his training very seriously in the gap between zones and provincials.
"That last week, I had a set workout schedule with cardio involved in the workout and throwing schedule around that. I went really hard the first two days and then progressed down to nothing the day before. I felt it really prepared me and it gave me some more confidence. It was really exciting to represent W.R. Myers in this provincial meet."
Talking with some longer-term teachers at the school, Krizsan was told no Myers student had placed first in provincial track and field in the last 18 years.
The youngster who is just finishing his Grade 10 academic year hopes the provincial win will serve as a stepping zone to more advanced competition, with sights on nationals and beyond.
"To have a provincial championship on my resume. It's opens up a lot of opportunities to different track clubs, that not having that gold medal wouldn't open. I was nervous knowing the importance of the competition, but excited having never been to provincials before," said Krizsan. "I've won a lot of local and zone competitions, but I want to be the best in Alberta."
Krizsan is eyeing a spot with Team Alberta for upcoming nationals that run Aug. 9-11 in Nova Scotia. If Krizsan were to register an identical 51. 75 metres throw that he did at this year's provincials, it would have eclipsed last year's national record in the age group.
"One thing about living in southern Alberta, small-town Alberta, it's hard to be noticed. But I feel I have been noticed and have beat a certain standard," said Krizsan, adding he is going to another track meet in Calgary this weekend, that is seen as a tryout for major track and field clubs. "I would really like to take javelin as far as I can in the future. I'd like to see myself 10 years from now still throwing javelin. Around 26/27 years old is the end of your prime for javelin."