Krizsan dominates in javelin zones
Posted on June 5, 2019 by Taber Times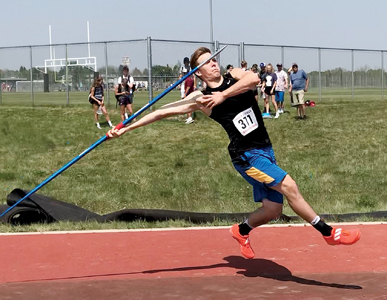 TIMES FILE PHOTO
By Greg Price
Taber Times
gprice@tabertimes.com
To say Kevin Krizsan is zoned in when it comes to his pursuit of javelin in track and field, that may be the understatement of the year.
Krizsan competed at zones this past weekend in Lethbridge at the University of Lethbridge, breaking the zone record for the fourth year in a row as he is finishing up his Grade 10 academic year at W.R. Myers School.
Krizsan has had a knack for javelin ever since taking it up in Grade 7 at Barnwell School, under the inspiration of his older brother Kurtis.
"My brother was actually a zone record holder as well in his Grade 9 year. I was a kid who was around 7-8 years old at the time and I thought it was coolest thing ever and I wanted to do that," said Krizsan. "I'd start throwing brooms around the back yard and then javelins when I could and he taught me. It was my brother, Mr. (Aaron) Edlund and Greg Bowes — ever since I could throw a javelin, they've been there, giving me support and giving me pointers. I look up to my brother a lot, and when I saw him doing it, I wanted to do it too."
Not only has Krizsan been breaking zone records, he has been obliterating them when you consider how far he has cleared the previous benchmark as he has grown in the art of javelin. In Grade 7, Krizsan had a throw of 37.90 metres. Every successive year, his throws have grown significantly, including throws of 46.10 metres (Grade 8), 48.68 metres (Grade 9) and 50.20 metres (Grade 10) to break zone records.
"I think the closest one I've broken has been by two metres, which was in Grade 8 which was around 44 metres. My biggest zone record breaker was Grade 9 where the zone record was 43 (metres) and I threw 48 that year," said Krizsan.
The event of javelin can be considered an art, given it is not just strength that makes one excel at the pursuit of excellence.
"I would say if you want to be successful at javelin, it is going to have to come off of hard work and discipline, but it's a very technique sport, it's not just brute strength. And with technique, you don't just get it overnight," said Krizsan. "It is something you have to work on for hours and hours and hours, over and over again."
The Barnwell native attributes his wide pursuit of athletics in keeping him in shape for javelin, as Krizsan has also played volleyball, basketball and cross country. Krizsan trains extensively for javelin itself for three months out of the year.
"All the sports I play in help keep me fit, and it helps me stay engaged in the community. Being part of a teams allows me to interact socially a lot."
Also, in developing muscle memory to add length to your javelin throws, it is not the muscles that first come to mind that are the primary ones being used to get zone and provincial recognition.
"I like to tell the guys I'm helping (in Barnwell), it's 80 per cent body and 20 per cent arm," said Krizsan. "When you are throwing that stick, you are using your momentum and your core body strength in your legs —— and arm obviously. But those stronger muscles in your body are the ones that will help you throw in farther."
Training in team dynamic sports along with the solitary ones like javelin have their similarities and differences. For an individual sport like javelin, Krizsan can narrow down exactly what the needs to be done to get to the next level, as all the responsibility is on his shoulders.
"Javelin is based entirely into what I put into it. Things like basketball, which is a team sport, there are variables you can't control. You are relying on yourself, but also your team to perform too," said Krizsan. "There are game that you could end up playing really well in, but still end up losing because your team doesn't come together, which happens, and vice versa. Javelin is based entirely on me, and if I win, I'm the one I feel proud about and if I lose I can say 'dang it, I now what I need to work on to get better'."
Always striving to get better, even if Krizsan were to make the exact same throw at provincials in Calgary this upcoming Saturday as he did at zones in Lethbridge this past weekend, the youngster's chances to shine are very strong. For curiosity sake, Krizsan has been tracking some zone throws from different areas in his age group.
"I saw some guys out of Calgary and Edmonton. One zone had a 36 (metres) and another zone had 44. I feel my 50-metre throw is up there," said Krizsan, adding of the zones he checked out, no throws exceeded his 50-metre zone throw. "I saw one at 48, but I didn't check out every single little zone. Usually, if someone walks into zones with a 38-metre throw, they are usually looking at a first place in the 38-40 metre range. I've been lucky enough to have been exceeding throws in my past four years to win and set zone records which is really nice."
As impressive as Krizsan has been, he will have to be even more impressive at provincials if he wants to break that record at 53 metres which hasn't been broken in awhile.
"We are not talking about 1980s, but it's been old enough that you are going 'wow.' Records usually only stay for about 10 years," said Krizsan. "I hope mine (zone records) stay longer," he continued with a chuckle.
Krizsan does not know what the optimum weather conditions are for a chance to have a javelin fly its longest distance, but he has his personal preferences.
"I like being comfortable. We didn't have the best weather in Lethbridge, and I was expecting to throw even further than that. It was a little bit windy," said Krizsan. "You don't want a tail wind for sure, you don't want wind coming from behind. I prefer not having wind at all, it gets the javelin out of sync. When you throw it, you want to get that nice rainbow and you want it to stick in. The wind will affect the tip and won't let it land nice."
For now, shorter-term goals are to have a solid showing at provincials this weekend, and perhaps go to nationals as well, if he can qualify for Team Alberta in track and field. Nationals run Aug. 9-11 in Nova Scotia. While Krizsan has been breaking zone records in his pursuit to provincials, on the national stage they would stick, too.
"My 50.20 metre throw currently would have beat last year's winner at nationals. Last year's national winner was 49.80 metres," said Krizsan.