Gymnastics club ends competitive season
Posted on June 5, 2019 by Taber Times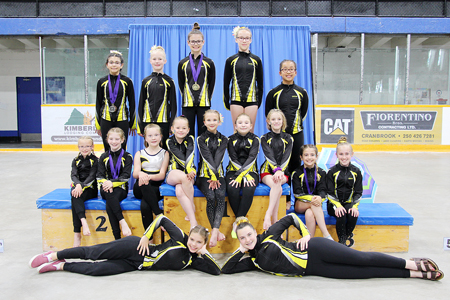 CLUB KIDS: Taber Gymnastics Fitness Club competed in its last meet of the season, coming away with many solid scores. TIMES PHOTO SUBMITTED BY APRIL KLASSEN
By Greg Price
Taber Times
gprice@tabertimes.com
There were 16 gymnasts from the Taber Gymnastics Fitness Club who made their way to the Coconut Cup in Kimberley, B.C. this past weekend, bringing in numerous top-three performances in the process.
Kate Csabay earned a first place finish all around for Level 6, thanks to second-place finishes in vault (9.25) and bars (9.025).
She also earned third in beam (9.025) and floor (9.175) to accumulate enough overall points.
Also competing in Level 6 was Rowyn Coney, who took second overall in floor (9.4).
Tayla Hansen competed in Level 3, and finished third overall. She earned top score in vault (9.65), while taking third in both beam (9.2) and floor (9). Competing in the same level was Saadieh El Jamal, who won second in floor (9.1).
Rhyan Hazell earned top score in vault (9.5) and third in beam (8.925). Janiell Halabi finished up in second in bars (8.675) and third in floor (9). Kendyl Hollingsworth was third in vault (9.35).
"Some have shown great improvement since the start of the year. Some have had a full two points higher in events than they were getting at the beginning of the year," said April Klassen, coach with the TGFC, adding each Level 6 and 3 gymnast had at least one fifth-place finish, if not higher.
For Level 1 and 2 competitors, Madalynn Kuryvial (vault) and Hannah Nelson (bars) earned golds.
"Levels 1 and 2 are not competing against each other, they are competing for an overall score. If you get nine or higher, you get gold," said Klassen, adding the gymnastics club has Tara Coney training the Level 1 and 2 athletes.
Taber Gymnastics and Fitness Club (5336 48th Avenue) will be having a year-end show for the public on June 11 at 7:30 p.m.
"Everyone is doing their best routine and we are hoping the community comes to show their support, or if anyone is interested in gymnastics to come check it out," said Klassen. "We have six new Level 1s and we are hoping to get more in the fall."
There will be open gym throughout the summer, with a new season beginning in September.