Canadian powerlifting records continue to fall
Posted on June 5, 2019 by Taber Times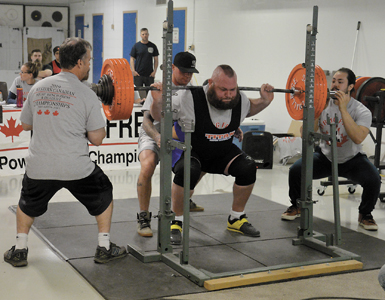 POWER PERSONIFIED: John Koethler (pictured) broke Canadian records in all three of his events at the Drug Free Western Canadian Championships in Taber on Saturday. TIMES PHOTO BY GREG PRICE
By Greg Price
Taber Times
gprice@tabertimes.com
Lots of locals made their presence felt at the Drug Free Western Canadian Championships in Taber in powerlifting over the weekend.
"There were some very strong men and women who competed in this contest There was a total of 20 Canadian powerlifting records broken, with many personal bests set also. Clay Sparks and John Koethler both had very strong lifting performances, setting multiple Canadian records, lifting some very impressive poundages," said Randy Sparks, an organizer of the event. "We have a very experienced crew of volunteers who help make things run so smooth. A big thanks to all of the volunteers who judged, spotted, worked the scorers table and helped set up and take down."
Clay Sparks swept the best squat, bench press, deadlift and lifter categories.
John Banman earned first place in his open men, 165-pound class. He squatted 310 pounds, bench pressed 200 pounds and deadlifted 385 pounds.
Shane Miller earned first for his open men, 181-pound lass. He squatted 310 pounds, benched pressed 265 pounds and deadlifted 445 pounds.
For Brad Wilson's open men, 242 pound-class, he took first for his squat of 525 pounds, his bench press of 340 pounds and his deadlift of 565 pounds.
Clay Sparks competed in the open men, 275-pound class, and took first for his performance of a squat of 635 pounds (Canadian record), bench press of 375 pounds (Canadian record), and a deadlift of 600 pounds (Canadian record).
John Koethler also registered a trio of Canadian records in his first-place finish for the open men, 319-pound plus class. He squatted 590 pounds, bench pressed 350 pounds and deadlifted 625 pounds.
Randy Sparks earned first overall in his Masters 60-64 years old 242-pound class. He registered Canadian records of 520 pounds in the squat and 475 pounds in the deadlift, while bench pressing 205 pounds.
Locals will be competing in a bench press and deadlift competition in the fall.