Spurs digging in for another Legion season with new coaches
Posted on May 29, 2019 by Taber Times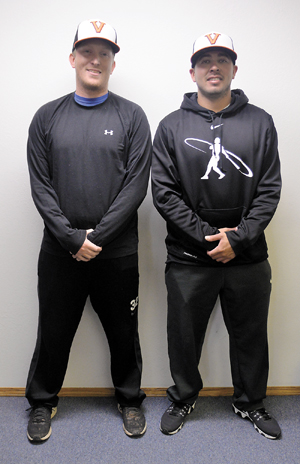 COACH'S CORNER: Their first time in Canada, Dru Sebastian and Rolando Martinez comprise the Vauxhall Spurs coaching staff for the 2019 American Legion 'A' season. TIMES PHOTO BY GREG PRICE
By Greg Price
Taber Times
gprice@tabertimes.com
A dynamic duos first foray into Canadian baseball hopes to be a big one, as a new coaching staff is taking over the reins of the Vauxhall Spurs program.
Dru Sebastian is the head coach, coming out of a junior college program from Montana, while also playing four years at a Div. I school out of his home state in Indiana as a pitcher, and has coached for three years at high school before that in Fort Wayne.
Moving out to Montana in October, that team's first game was against Northeastern Junior College who just happened to be helmed by Ronnie Deck, the head coach of the Vauxhall Spurs program in 2017, who spoke warmly of the program in a pre-game conversation.
"Me and him were talking before the game and I asked him about any availability for the summer and he said it was a great place to come up to coach with some great kids. So far, that's all been true," said Sebastian.
Sebastian will be looking after the pitching for the Spurs while his assistant Rolando Martinez will be coaching up the hitting.
From California, Martinez played junior college at Bakersfield before transferring over to Oral Roberts University in Oklahoma where he played against Sebastian. Martinez's resume also includes playing professionally in Mexico for three years.
In junior college, Martinez played middle infield, while playing outfield in university and pro ball.
Sebastian and Martinez got their first full look at how its Spurs squad could perform in live game action at this past weekend's Lethbridge Miners 'Ron Matthews Memorial' Invitational.
"It was awesome to see. We moved a lot of guys around to see what they could do and get a feel of what our roster is going to look like," said Sebastian. "We moved guys into a bunch of different positions, maybe even positions we didn't necessarily picture them at. But, we got some surprises to see their flexibility defensively. And every guy that batted on our roster got a hit this (past) weekend. It really helped us analyze our strengths and our weaknesses."
Early impressions have Martinez seeing the Spurs being able to play a lot of small ball with the quickness they have on the basepaths, with bunts, hit and runs moving baserunners over, and an overall aggressive approach running.
"We do have some power guys, but our main focus will probably be small ball and base running. We have some quick guys and we will be smart on the bases," said Martinez.
Martinez has played on healthy offences his whole college and pro career which Sebastian noted, where both coaches will compliment each other quite nicely in their expertise.
"Looking for an assistant, he (Martinez) came to mind with his quality hitting experience. You can teach quality offence at the high school level with a guy with professional experience. He also played at one of the best Division I offensive schools in the country," said Sebastian. "They were regularly in the top 20 in every single offensive category. Coming from a high-level offence, it is going to be really sound offensive teaching. There aren't too many people I can look up and find that have Martinez's background. That makes my job a whole lot easier to have 100 per cent trust in my assistant coach."
Ten different arms pitched innings for the Spurs at the memorial tournament in Lethbridge over the weekend.
"We are still working things out on the pitching side. There were starters from last year who threw a decent amount of innings, but were a little rusty on the weekend, so we are still getting a feel. But we had some guys that I didn't anticipate getting a lot of pitching going into the weekend who really stepped up and threw a lot of strikes," said Sebastian.
"Pitching side is still pretty fluid. We have a couple of guys who really established themselves and we got a lot of depth options three through 10 that we will reshuffle and work things out in the next month or so."
Martinez and Sebastian admitted to needing some time to get used to the weather as their experience in Canada involved a chilly May long weekend, but the work ethic and attitude of the Spurs has warmed them up really quick.
"The kids attitudes have been outstanding. Coming from the college level, you are managing egos and attitudes a lot more. It has been refreshing coming up here and not having a problem with effort. Every kid has run out every ball 100 per cent. You are shuffling guys in and out and you're not getting any complaints about playing time. The dugout has been positive and they just want to win," said Sebastian. "Each kid is putting 100 per cent in each time and in every at bat. In the dugout and on the field, they have been great kids. Other than that, it's been really cold," added Martinez with a smile and a chuckle. "Hitting wise, it's about developing the young guys, making sure they always have a plan before they get to the plate. They have to have the right approach. Defensively wise, we have a lot of good athletes, so I feel we can move them around and maybe take them out of their comfort zone with different positions. It will help with our depth overall."
Sebastian saw some pretty impressive play in the outfield by the Spurs at the Lethbridge memorial tournament which is a Godsend to pitchers.
"It all starts with filling out the strike zone, especially this year where one of our strengths is our outfield. We got four or five guys that are pretty interchangeable out there that any ball in the air, very few balls dropped in. They had good range and good reads," said Sebastian. "That makes things a lot easier on the pitching staff knowing you have confidence in your defence behind you. At the start, you can just throw strikes and then as the season progresses, work on your secondary offerings and pitch sequencing and those other details that can further their careers moving forward."
Vauxhall Spurs kick off the regular season tonight with a doubleheader against Lethbridge Miners at Jets Stadium, with games at 6 and 8 p.m.
The team heads off to Conrad, Montana on June 1 for a doubleheader against Tri-County Cardinals. Monday, June 3 sees a road doubleheader against the Lethbridge Miners at Spitz Stadium.
"We did a lot of good things this past (long) weekend, but we still got a lot of room for improvement," said Sebastian.