Locals shine at Westerns
Posted on May 29, 2019 by Taber Times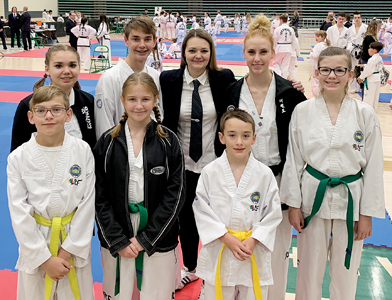 TEAM SUPREME: Left to right, back row to front row, Jocelyn Planger, Brennan Abela, coach Brandi Merritt-Miyanaga, Grace Holowiski, Kennedy Planger, Evan Abela, Abby Abela and Aiden MacDonald all made their way to the Western championships. TIMES PHOTO BY BRANDI MIYANAGA
Merritt's Ultimate Taekwondo was well represented at the recent Western Canadian championships in Saskatoon earlier this month, with numerous competitors earning medals among the over 300 competitors who competed.
Grace Holowiski moved up to senior patterns and sparring, taking double gold for both pursuits.
Jocelyn Planger fought the gold medalist from a division above her and still came away with gold in sparring with her junior black belt, while also taking a bronze in patterns.
Brennan Abela won gold in patterns and silver in sparring for red belt.
Competing in blue stripe, Abby Abela got gold in sparring.
Evan Abela got double gold in green stripe for patterns and sparring.
Aiden MacDonald earned a bronze in sparring.