Auroras take their lumps in Cardston tourney
Posted on May 29, 2019 by Taber Times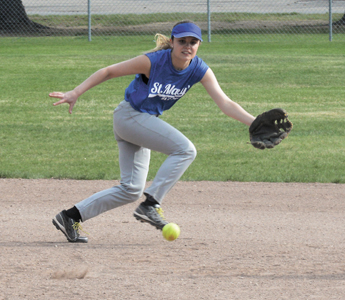 GROUND HOG DAY: St. Mary's Auroras shortstop Hallie Horvath chases down a ground ball against the Vauxhall Queens at Confederation Park earlier this month. TIMES PHOTO BY GREG PRICE
By Greg Price
Taber Times
gprice@tabertimes.com
St. Mary Auroras girls slo-pitch team are tending to its wounds after a tough tournament slate in Cardston over the weekend that left them with a 1-3 record.
"We lost our first game of the tournament in a heart breaker to Cardston (15-11). We had some untimely errors to get that third out where they wouldn't have scored some of those runs," said Rich Horvath, co-coach of the St. Mary Auroras girls slo-pitch team.
"We had one bad inning where they scored a bunch of their runs. You do that one error with two out, and next thing you know, they are scoring three or four more runs. But, it was our best starting game of any tournament. Usually, we've been terrible in our starting games, but that was a good one."
The Auroras followed up with a loss to Vulcan, a team they had beat handily in earlier games on the season.
"They kind of had the game of their life and we played just average and lost it by a couple," said Horvath.
The team's lone win of the tournament came against Willow Creek, as the Auroras lost once again to host -team Cardston in the tournament semifinal.
"We actually hit quite well. Our downfall was costly errors. While we look to have improved immensely, it looks like other teams have as well. Vulcan surprised us where maybe we took them too lightly," said Horvath. "We were in every game. The errors snowballed for sure with little mental errors costing us runs."
Earlier in the month, the Auroras managed to sweep the Vauxhall Queens in its home doubleheader in Confederation Park on May 15.
A late Queens rally made things tense for a while in one of the two games, with the Auroras eventually able to preserve the win.
"We had a big lead for the longest time, then they came back in their final inning. They got some timely hits at the right time and we made some untimely errors that compounded the damage and allowed them to claw back and get back into the game," said Horvath.
Also compounding things for the Auroras have been missing two big cogs in Cassidy Phillips and Rachel Gouw due to injury. Phillips has been in and out of the lineup due to a chronic knee injury and Gouw has been missing from game action for a month after suffering a high-ankle sprain early in the season.
"Both are really good players. Having them out of the lineup hurts," said Horvath.
The Auroras were scheduled to play Foremost on the road on May 22, but had to be rescheduled due to Foremost seniors missing due to grad commitments. The game is rescheduled for June 3. The St. Mary Auroras are also on the road on May 30 against Kate Andrews in Coaldale.
"That will be a tough game, although last time we played them, it was a see-saw battle. We are looking forward to playing them," said Horvath.
The Auroras will be competing in the senior final tournament at Softball Valley in Lethbridge on June 5 to conclude the season.
"Our goal has been to be more competitive with the other teams in the league than we have been the last few seasons and the girls have drastically improved," said Horvath.