Spring camp draws solid numbers
Posted on May 22, 2019 by Taber Times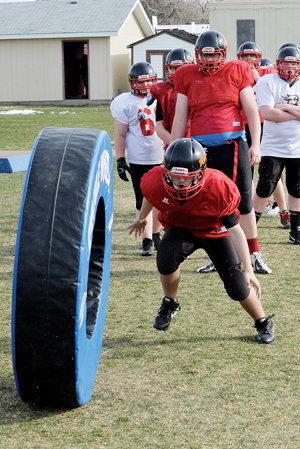 TIMES FILE PHOTO
By Greg Price
Taber Times
gprice@tabertimes.com
Spring camp has come and gone for the W.R. Myers Rebels football team.
The camp culminated in a jamboree in Medicine Hat earlier this month as interest was solid this year as the squad prepares for the fall grid-iron season.
"Going into it, this year's spring camp was maybe a little more interesting than most. We graduated a pretty big and talented group of senior players this year, but we also had a large, talented crop of rookies coming in, so it was tough to gauge how the team would perform. As it is, I'm pretty impressed," said Jason Jensen, head coach of the W.R. Myers Rebels. "Spring camp is typically kind of a crapshoot, since we're generally competing with a few other sports, and players are torn between multiple commitments. It turned out that this year was a little better attended than most. In all, we had 26 different players take part in camp at one point or another, and we had a roster of 24 to take to the jamboree in Medicine Hat. That's much better than we've had the past couple of years."
The jamboree was attended by Medicine Hat High School and Crescent Heights, along with the Rebels.
"You can learn a lot about players from coaching them in practice, but you really don't know what kind of player they truly are until you get them in a game situation. This year's jamboree was perfect for that. It was a scrimmage-style format where each team's "senior group" got 12 minutes on offence, followed by each team's "junior group" getting the same," said Jensen. "This was a great opportunity to get everyone plenty of playing time, with the coaches on the field, and in the huddle to give on-going instruction. We got to try guys out at different spots, and in different situations, and we had a few guys get their first taste of game action ever."
Final scores of the jamboree mean little, as coaches use the jamborees more with the process of seeing how players perform in game situations.
"Going into it, I told the guys that I didn't care if they screwed up, even if it was a big one, as long as they could tell me what their mistake was. That's how we learn, and get better, and that's what the event was for," said Jensen. "We made it clear to the rookies from the get go that with so many graduating seniors, there were plenty of opportunities to step in and make a contribution right away. They just needed to earn it. It was apparent right from the start that a lot of these guys were taking that opportunity very seriously."
In addition to Jensen, the Rebels' spring staff was comprised of returning offensive co-ordinator Garrett Simmons, and graduating seniors Mike Sawatzky, and Johnny Tams, who asked if they could come out and help give back to the program for the spring.
"Between the four of us, we were kept pretty busy teaching and evaluating," said Jensen. "Now that it's all said and done, I'm pretty pleased with our prospects for the fall. We took a team that was almost half comprised of rookies, and took it to two schools way bigger than ours. That tells me that once we get these guys completely up to speed, we'll be in a great position to defend our Jerry Dawson Trophy, and zone title, and once again make some noise in provincials. It's just too bad that now we have to wait three months to get back at it. Mid-August can't come soon enough."