Plenty of fists flying on June card
Posted on May 22, 2019 by Taber Times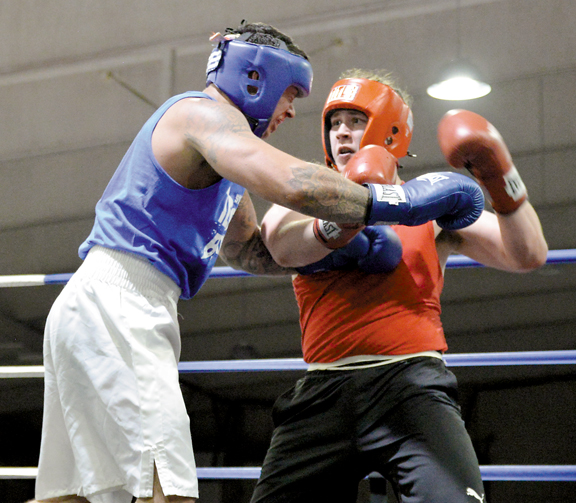 TIMES FILE PHOTO
By Greg Price
Taber Times
gprice@tabertimes.com
To say the boxing fight card scheduled for June 22 at the Taber Arena will have a local flavour is an understatement.
That flavour will be Baskin-Robbinsesque in its variety as a whopping 15 local fighters from the Pro Performance Athletic Centre and Bam Bam Boxing stable are scheduled to be entering the ring for spectators.
"It is amazing what Taber has become fight wise. These are probably the best attended shows in Canada and I'm not even lying here. What we've been able to do in this small little town in packing the venue with as many people as we've packed it with and having crowds like that, it's so special that everyone wants to fight on the shows now," said Joel Mills, who has been training the fighters at Pro Performance Athletic Centre for Teofista Boxing Series #35.
A bold comment by Mills indeed, but the numbers back it up. As of Friday's interview with The Times, 51 of 53 VIP tables had already been sold. That does not count the ample general admission bleacher seating of 1,500 at the Taber Arena that has drawn big crowds at both pro and amateur boxing cards in the past.
"In my 23 years in boxing, I've never seen anything like it. The guys who come to Taber and take these shows in, they all tell me the same thing that this is something unbelievably special, which this town has given us the ability to do. The amount of support is unmatched," said Mills. "Definitely for amateur, 100 per cent, I'd say these are the most well-attended amateur boxing events in North America. I've spent my whole life in boxing and traveled the world doing it and I haven't seen anything like it with this support for amateur fighters. It is amazing the support this town has shown."
Coming off the heels of a bronze medal at nationals, Brent Anderson will be the headliner with locals Jared Bell, Dustin Bell, Darren Peleskey, Spencer Valgardson, Bart Zukowski, Oskar Timofiejew, Jay Jay Buitenhuis, Brad Olson, Ryan Harkness, Jett Pedersen, Jenna Langhofer, Wyler Langhofer, Broc Merkl and Nick Badura. Local amateur fighters range from 12 years old to their upper 30s.
"It makes my job of finding opponents a lot easier because people want to be on the card. People know it's crazy, it's fun. We put on a good show and the crowd comes to cheer," said Mills, adding partner Eric De Guzman of Teofista helps book opponents.
"He has told me up and down that each one of these guys will have a fight. I would venture to say, and I don't know this for sure. But I would venture to say we are the only fight card to do an all-local show in years and years."
Mills tries to get as many fighters training at his gym at once along with sparring sessions to ensure equal time and he sees a trend where each fighter is helping each other.
"We all train each other. There's the coach, but the fighters learn together. They are all groomed together. I'm seeing the more experienced guys are helping out the less experienced guys. The more experienced guys are sparring amongst themselves and with guys in Lethbridge and learning more and bringing that knowledge to the table," said Mills. "I've basically been trying to get everyone in the room at the same time and everyone working and growing as a club. It's a different type of feel when you are training these kids, these people and these friends of yours that you genuinely care about. You don't want to see something happen, you don't want to see someone get hurt. There's some tenseness and some nervousness on my part. I just want to make sure they are prepared properly. As a coach, I couldn't be more proud of the people who have been training and see them step up and into the ring."
With so many local fighters, Mills is expecting a Hostile Homecoming vibe in which he fought in as a pro in Taber at the Taber Arena, with how loud the cheering sections will be.
"For me, just to see these things come together, this is my dream. When I moved back home six or seven years ago, this was my dream. We are finally getting to the point that this is a fight town and it has gone beyond what I thought we could do here," said Mills, adding he is forever thankful and grateful for how supportive Taber has been. "The fans make the fights. The reason why these fights are the way they are is because of the crowd. The fighters get out there and put it all out on the line and the crowd gets behind them. It creates a different feel."
Teofista Boxing Series #35 goes at the Taber Arena on Saturday, June 22. Doors open at 6 p.m. and the first bell is 7 p.m.