Hundreds of shooters flocking to provincial championship
Posted on May 22, 2019 by Taber Times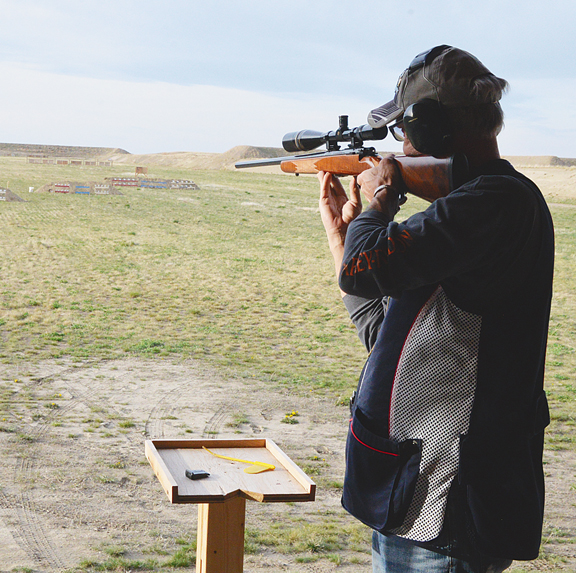 TIMES FILE PHOTO
By Trevor Busch
Taber Times
tbusch@tabertimes.com
Marksmen are taking aim at an upcoming provincial championship that will be hosted at the Municipal District of Taber Sport Shooting Complex in late June.
The International Practical Shooting Confederation of Canada (IPSC) Provincial Championship will be held at the shooting complex from Saturday, June 29 to Monday, July 1.
"We have registered 200 shooters for this match, which should directly add a $40,000 boost to the local economy," said Walter Hornby, a representative on behalf of the IPCS provincials event, at Taber town council's April 23 meeting.
In addition to the shooting events there will be a banquet dinner on June 29, followed by an awards ceremony on July 1. Hornby invited Mayor Andrew Prokop or a member of council to attend the banquet and awards ceremony as a representative of the Town of Taber.
As a contribution from the municipality, Hornby requested the town supply garbage and recycling bins at the shooting complex for the event, to consist of eight garbage carts, eight recycle carts and two bins for garbage and recycling. In return, the town would be included as a sponsor for the event.
"When I was in Edmonton, I met a lady that was a past president of CARP (Canadian Association for Retired Persons), and she had a friend coming from the Czech Republic to the big event, and she already knew about this, so this is quite a feather in Taber's cap — be it the M.D. here or wherever — it's all in Taber," said Coun. Joe Strojwas. "It's just a great thing to do for the community."
Following discussion, council voted unanimously to appoint Mayor Andrew Prokop as a delegate to attend the IPSC provincials banquet and award ceremony as a representative of the Town of Taber; and approved the town supplying garbage and recycling bins to the event held at the shooting complex.
Located 10 kilometers north of the community on Highway 864, directly adjacent to the Taber Motorsports Park, the M.D. of Taber Sport Shooting Complex accommodates rifle, pistol, shotgun, action and archery with various ranges from 50 to 600 metres.