Comedy show to aid dog park fundraising
Posted on May 22, 2019 by Taber Times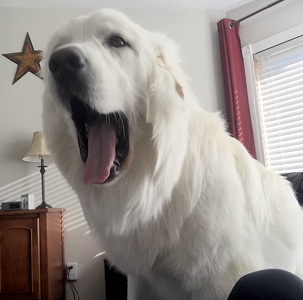 PARK PLACE: Dogs like Bo are looking forward to possible improvements to the off-leash dog park in Taber through public fundraising. TIMES PHOTO SUBMITTED BY DANELLE ULRICK
By Greg Price
Taber Times
gprice@tabertimes.com
On the heels of making multiple presentations to the Taber Recreation board on needs for improvements to the off-leash dog park, Danelle Ulrick is taking it upon herself to fundraise to help make those improvements a reality.
Ulrick has noted in the past, things such as a sufficient fresh water source, fencing, shelter, lighting, adequate seating, separate play areas, leveled grass areas, paved walkways and parking lots, more signage and garbage receptacles were items seen as lacking when compared to other dog parks in southern Alberta.
Ulrick kicked off a handful of fundraising initiatives with popcorn baggies at St. Mary School last week at $1 a bag with 100 per cent of profits going back to improvements at the off-leash dog park. The school will also be where students will get to throw money into a voting jar to choose an activity at the end of the school year.
"It's something like they get to vote whether they can have a puppy therapy day at school or have a student dye their hair where they drop money into the jar they want that event to happen," said Ulrick. "Whichever jar draws the most money will be the event we do at some time near the end of the school year, with the money going back to the dog park."
Ulrick has also talked to the Taber Soccer Association in arranging food trucks to come to its tournament on June 7-8 at St. Patrick Field where a portion of the proceeds will go towards improvement to the off-leash dog park. Vendors will be coming on Friday, June 7 from 5-9 p.m. and Saturday, June 8 from 9 a.m.-5 p.m.
The biggest fundrasier will be where the Good Times Club out of Lethbridge will be featured at the Oilmen's Club who is donating the venue to feature a handful of comedians, tentatively set for June 26.
"That's a Wing Wednesday, so we are hoping everyone will come out for that and support a good cause. Tickets will be sold on the Good Times website and it sounds like they are going to sell the tickets for $20 each, with $15 from each ticket going towards the dog park," said Ulrick, adding silent auction items will also be at the comedy fundraiser for people to bid on.
The last day of school at St. Mary School (June 18) will also feature a bevy of food trucks where students, teachers and the community alike will be invited for some dining where a portion of its proceeds will benefit the off-leash dog park.
"It will be a hooray, we made it sort of thing for the school year, where four or five trucks will be coming," said Ulrick, adding a truck will be coming from as far away as Vulcan to help serve breakfast to start off the day early in the morning.
With so many people who own or love dogs in Taber including Ulrick herself, it is a cause that is close to many people's hearts for an off-leash dog park in the Taber area that can realize its full potential for a bonding moment between humans and their four-legged friends.
"Growing up on a farm, we've had dogs, and I've been a dog person my whole life. When my dog was younger, I competed in agilities with my dog who is 16 years old now. Anything related to dogs is in my ballpark," said Ulrick.
"With all these meetings I'm going to, it's kind of like having the Agri-Plex around for the Bull-a-Rama for Cornfest. If we can get the dog park area fixed up, it would be a great area to have agility competitions out there during Cornfest and would be another draw for people to come to the town. There is so much fantastic potential out there, it's just a matter of people stepping up and getting it done."
With plans in phases by the town of improving the Trout Pond area that is right next to the off-leash dog park, Ulrick sees plenty of synergy where one project can help the other in improvements on the whole.
"There's the constant rumours of getting camping out there (the Trout Pond) and having a workable, usable dog park, everyone knows people who go camping do not forget to bring their dogs," said Ulrick. "It would be nice to have an improved dog park right next to the camping where you have an area to run your dogs while you are out there."
Baby steps are being taken for now where Ulrick is working with contractors on pricing of various projects, including fencing and grounds repair.
"It's just about moving the ball faster to get things done," said Ulrick. "The biggest hurdle right now is trying to get water out there. I've been informed they are working on that and once we get water out there, things will start to happen quicker."
If you would like to donate silent auction items for the comedy club fundraiser in June for the off-leash dog park, you can call Danelle at 403-330-3365.