Motocross mayhem coming soon
Posted on May 15, 2019 by Taber Times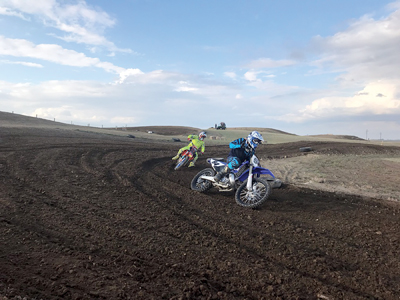 TIMES FILE PHOTO
By Greg Price
Taber Times
gprice@tabertimes.com
The M.D. Motocross Track will be buzzing with activity later this month as the Taber Motorcycle Association prepares to host a race in the Alberta Motorsports Association circuit.
It is one of many races in the circuit that also features competitions in Raymond, Medicine Hat, Brooks, and Calgary.
Racers will be practising at the track from 9 a.m.-2 p.m. on May 25. Race day will be Sunday, May 26 from 9 a.m.-6 p.m.
"We certainly have a little more help and a little more people coming forward to offer up their help this year compared to last year. Now that we've done it once (last year) for the first time in 11 years (type of series), we are more comfortable doing it," said Nolan Hill, race director for the Taber Motorcycle Association. "It's great, we are getting more and more people interested in the sport and coming out. We've had six guys who have never raced in an organized race like this before and they raced last year and they won their class. They were pumped, they were young guys who knew it was their home track and they gave it a shot. There are guys up to around 10 years old, that are doing the whole circuit now."
What they introduced at last year's race that they will be doing again this year is an intermission from noon-1 p.m. on the race day Sunday where an introduction to riding will be offered.
"Anyone can come out and ride on the kids track for free, to basically get a feeling of what it's like to race. They are given a goody bag and a participation medal and the idea is hopefully they will stick around for the rest of the day, take in some of the races and hopefully become interested in the sport moving forward," said Hill.
Last year, the motocross series was able to draw approximately 180 riders spread over approximately 400 race entries, with hopes for even more this time around in late May.
"I figured there would be some guys that wouldn't show because Taber hadn't done a race in a while, but honestly, it was so satisfying seeing that many people show up, and almost everyone who went up to me or one of our volunteers when the weekend was over and said what a great event we put on and they hoped we'd put on another one. And here we are," said Hill.
The Canadian Motosport Racing Club series holds a race in Eastern Canada where a good showing in Taber's race can help get them there.
"That's big-time pro races, but a lot of our riders race in that as well. Our race is one of the qualifiers for one of the biggest races in Canada. That is for the pros and the intermediates, but I hope that draws out some extra racers as well on the big bikes. They are pretty entertaining," said Hill.
As riders compete on the circuit throughout the year, they get a feel for the lay of the land of the different tracks.
"It certainly has some different aspects that some outdoor tracks don't. We are a mix. Three quarters is designed like an outdoor track and then we throw in a couple of indoor, super cross type style stretches. Those stretches can really separate the fast riders from the slow riders," said Hill. "As far as our track goes, I've been to them all in the whole circuit and ours is by far one of the best for spectating. You go on top of the hill, stand on one spot and you turn around and you see the whole track. It's crazy how fast some of these more experienced riders can can go around our track."
The motocross track is five kilometres north of Taber on Highway 864. For those wanting to check out more motocross racing, they can drop by Tuesday Nights Motos at the track, with the track opening at around 5 p.m.