Dog park push continues
Posted on May 15, 2019 by Taber Times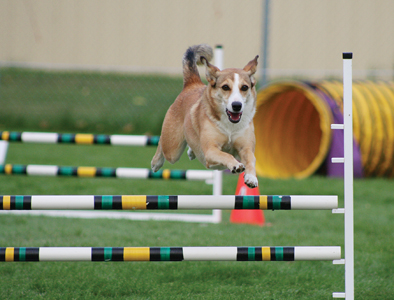 DOG DAY AFTERNOON: Dogs will be jumping with joy with possible agility drills if improvements to the local dog park can be made. TIMES PHOTO SUBMITTED BY DANELLE ULRICK
By Greg Price
Taber Times
gprice@tabertimes.com
The push to see improvements to Taber's Dog Park made its way to the Taber Recreation Board once again at its May meeting, after laying out a wish list at the board's April meeting as well.
Danelle Ulrick wanted to get some further feedback after making her presentation in April in which things like a sufficient fresh water source, fencing, shelter, lighting, adequate seating, separate play areas, leveled grass areas, paved walkways and parking lots, more signage and garbage receptacles were identified as lacking when compared to other dog parks.
Ulrick reconfirmed among the various improvements, if they were done in phases, the top three priorities would be fencing, a water source and shelter.
"I also wanted to plant the seed that kind of like the Agri-Plex is used for the Bull-a-Rama, I think we are missing a fantastic opportunity to develop this (dog) park and use it for dog agility and training and trials for things like Cornfest," said Ulrick. "I myself used to compete in agility when my dog was young and it is a big sport. I think there's a great opportunity there to bring people into Taber eventually when it's fixed up."
Ulrick also inquired to the rec board if they could provide guidance on where she could go to access expertise on applying for grants.
"I'm new to the whole grant thing, so anybody who could give me some direction there, it would be fantastic," said Ulrick.
With all the push dog lovers have been making to see at least some improvements made to the dog park, Ulrick wanted to know if there was any truth to a rumour she has heard around coffee row about the dog park.
"One question I do have for the rec board, there is a rumour that the dog park will be moved (away from the Trout Pond). It's not something I am aware of, and I would hope that if that is the case, you guys would give me a heads up so I don't put time and effort into this," said Ulrick.
Danielle Hansen, chairman for the Taber Recreation Board, replied no one had heard of any confirmation to the rumour, with the board deferring to Mayor Andrew Prokop who was sitting in the gallery at the time of the board meeting.
"Not that I'm aware of at all. I believe there was some discussion potentially involving a (dog) run. Our council has been aware of that as a possibility," said Prokop.
With improvements being planned to the Trout Pond area, the possibility does arise of water making its way to the dog park. How that water would be regulated is another issue.
"I don't know of any temporary water right now. You don't know how many people would be using it, how big of a tank you need where maybe the water would just be sitting there and getting stagnant," said Hansen.