Auroras host Vauxhall today in slo-pitch play
Posted on May 15, 2019 by Taber Times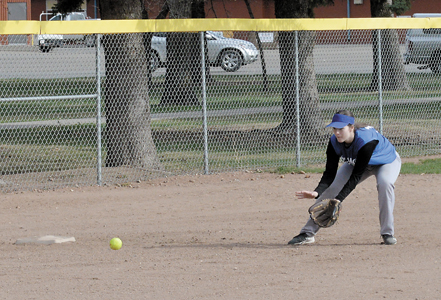 INCOMING: St. Mary's Auroras third baseman Alyssa Pavka fields a grounder during regular season play earlier this year at Confederation Park. TIMES PHOTO BY GREG PRICE
By Greg Price
Taber Times
gprice@tabertimes.com
The shine on the St. Mary's Auroras girls slo-pitch team continues to get brighter and brighter as the team get sits feet under it in improved play.
That play was showcased this past weekend at a tournament at Kate Andrews in Coaldale this past weekend, where the Auroras earned bronze with a 2-1 record. The Auroras managed to beat Kainai and County Central, while losing to host Kate Andrews.
"It was really satisfying. All the girls are athletic and it doesn't take much for them to catch on with what we are teaching them. They seem to really be catching on," said Rich Horvath, co-coach of the Auroras who have a relatively young team, with only the one senior. "They are all fast learners and they are all happy kids. It's a good group of kids where everyone gets along which is what we want. We want every kid to have a fun time."
It marks another solid tournament showing where the team was 1-1 at an earlier tournament in Vulcan, having been tied in the third game before being called due to weather.
"Our game is coming around. It still seems like our offence is coming around faster than the defence. We are still having some troubles catching fly balls and giving teams extra outs," said Horvath, adding pitching has been consistent throughout the year, in keeping free passes to a minimum in finding the strike zone and making the opposition swing the bat.
Horvath added in girls slo-pitch, usually leagues are top heavy where have teams are beating up the have not teams. Given how young the team is, the improvement it has shown since the first practice, the potential is definitely there to be one of the have teams.
"There's been huge growth. We can be one of those dominant teams with a little more work," said Horvath, adding the offence has the team featuring players with hot bats at different times down the lineup.
The Auroras host Vauxhall Queens today at Confederation Park, with a doubleheader starting at approximately 4:30 p.m. The team is then on the road for the rest of its season with games against Foremost (May 23) and Kate Andrews (May 30). The team competes in a tournament in Cardston May 25.
The season-ending championship tournament goes June 5 at Softball Valley in Lethbridge.