Town barbecue competition protested
Posted on May 8, 2019 by Taber Times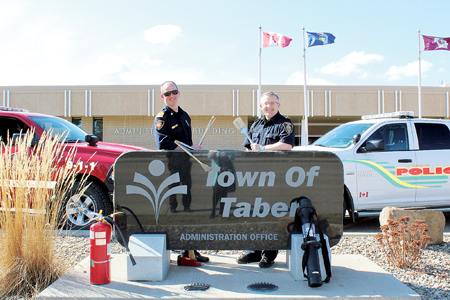 TIMES FILE PHOTO
By Greg Price
Taber Times
gprice@tabertimes.com
A petition has been circling around Taber, protesting the timing of the First Annual Backyard BBQ Competition to be held at Confederation Park.
The event is scheduled for May 25, which coincides with the W.R. Myers high school graduation banquet, leading some parents to start up a change.org petition, asking the date of the event to be changed by the town because many grads use the venue for pictures and family gatherings during the day.
Recreation board member Rene Angermeier had seen the petition on social media and inquired about an update to the situation at the recreation board's May 2 meeting.
"We have right from the beginning been working very closely with the school, the principal, the vice principal. The entire north part of the park is being kept clear for the grad and then the west side part of the park is where our barbecues will be," said Dawn Phillips, recreation director for the Town of Taber. "We have been doing some social media posts to get the positive message out there that we have been working with the principal and the vice principal all along. It's not going to be a big party event with a loud stage, it's more of a picnic setting than a big beer garden. It's a more casual setting. They are only using the park for the pictures, so we think once they are out there this year and see it's not as bad as they felt it was going to be, I think there won't be resistance in the future. We are continuing to communicate positively with them and answer any questions or comments that do come up."
The event includes a friendly BBQ competition celebrating the meat producers in the area. The BBQ area will be licensed with beer and coolers provided by the Kinsmen, live entertainment during the day, and ending with a fundraiser pulled pork dinner. The Town of Taber has mapped out the barbecue area on its Facebook page.
The date was chosen by the BBQ committee because it would not interfere with the May long weekend or town work commitments, events, and large projects that are already scheduled for June and summer. As Confederation Park is a large space and the Cornfest Stage had not been booked, the BBQ committee felt that the town could accommodate both the BBQ event and the space needed for the graduates' use effectively.
Roads will be closed for pedestrian traffic and safety concerns during the day and to ensure there will be adequate parking for the grad event. The alcohol consumption area of the barbecue competition will be fully fenced off from the rest of the park.
The town acknowledged on its Facebook Page that despite the petition, it will not be changing the date due to commitment from sponsors, vendors and entertainment that has already been booked.