Ball society receives good news regarding diamond pricing
Posted on May 8, 2019 by Taber Times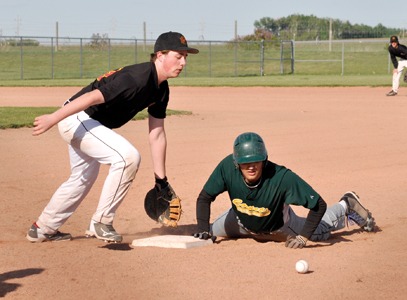 TIMES FILE PHOTO
By Greg Price
Taber Times
gprice@tabertimes.com
The Baseball/Softball Enhancement Society updated its progress for the fourth diamond out at Ken McDonald Memorial Sports Park to the Taber Recreation Board.
Giving further clarity to its budget in which $250,000 has been approved for a 2019 capital budget by the town, society members Suzanne Peters (president) and Rick Popadynetz (treasurer) were on hand to talk about several items and also initial work that has already been done in the diamond area.
"The M.D. of Taber has already done some ground work for us which is about a $48,000 donation they have provided to us with their services," said Peters at the May 2 recreation board meeting. "Rick has been doing a lot of miles, approaching different companies and businesses to get us some estimates for services. Based on our society, what they are willing to give us at quite a discounted rate. There have been businesses in town that have provided us with a quote for doing this work at a greatly discounted rate based on us volunteering to do this as well. Our spring work shows we need to do this as soon as possible."
The town had got some pricing done for a potential fourth diamond out at Ken McDonald Memorial Sports a few years back, and Popadynetz revealed he was able to secure quotes that came quite a bit under previous quotes.
"I had some red flags go up with the pricing the town had got done in previous years. One in particular was the pricing of the sprinklers. In previous years in 2015 in the budget that I presented to council. It was $50,000 for the sprinklers, I got a price back of $5,000," said Popadynetz. "Hydroseed is obviously going to cost a lot less. It is $63,000 for sod and hydroseed brings in a better product. Hydroseed is a grass mix sprayed onto the top soil and then it has to grow. It's like you see at St. Pat's School. Fencing, the town came in at $68,000 with their fencing and I've got all in at $28,000. When I see red flags like that (with price discrepancies), I'm stopping and thinking what am I missing? Am I missing something? At that point though, I think we absolutely have to get this done or else we will lose all of our top soil. The more we delay, we have to probably bring in more top soil and incur more cost. I'd like to get the approval for the spring work as soon as possible."
Looking at pricing that is one-third what was originally quoted at, recreation board member Darcy Firth did not think the numbers were as alarming as first thought going over the numbers.
"The year 2015 was a different time. Alberta was just entering that slow recession where it took some time for things to come down. The company I help run, I had to learn to run off of 40 to 50 per cent less of a profit margin. The costs may still be there, but companies had to learn how to do things differently. Today's costs are lower than 2015 in a lot of stuff. And with your discount that you got on this, that's why the numbers are so different. I'm not as alarmed with these numbers knowing how things have dropped in Alberta, especially the last two years," said Firth. "It was a different time where costs were 40 to 50 per cent higher for everything when it comes to services. With your discount (with connections), it's great you got it to where it is."
As of Thursday's meeting, the society was still waiting for quotes from a company from Hanna on red shale. The society was still looking to gain access to grant writing from the town and has issued sponsorship letters to several businesses in town for signage around the ball park area.
"Initially, we had previously talked about modifying other diamonds in town (in other phases), but based on what we are seeing for need in the town, we don't think that's the greatest route to go right now," said Peters. "We would rather have the Ken Mac sportsfield finished up, including getting the concession and washrooms out there. Let's get that facility finished instead of it dragging on and on and on. We would like to get it so other user groups can use it as well. We have the football board who has joined us now working on this as well."
Popadynetz added the football board would like to see water out on the field along with a concession.