WHAM! concludes busy club season
Posted on May 1, 2019 by Taber Times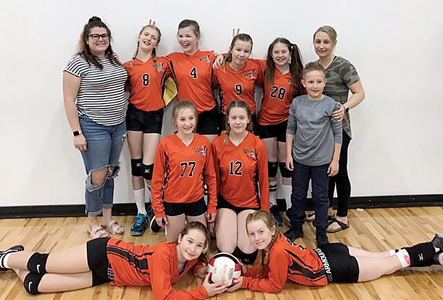 SQUAD: Taber U13 WHAM! club volleyball team had a successful season in 2019. TIMES PHOTO SUBMITTED BY CAROLYN SIEMENS
By Greg Price
Taber Times
gprice@tabertimes.com
The U13 WHAM! club volleyball team recently concluded a solid season.
The team attended a premier tournament in early March and blew away expectations.
"We placed much better than I had expected since we were a very young team for the age group," said Carolyn Siemens, head coach of the WHAM U13 girls club team. "We ended up in the top in our pool and all our playoff matches were very close and went to three games."
The team's second premier tournament was in Edmonton.
"We played well again, but just couldn't win our third game to win the match and ended up dropping down to the third division and being ranked first there," said Siemens.
In the third division, WHAM played two local tournaments in Barnwell and Brooks.
"In these tournaments we played regular volleyball versus triple ball, so we struggled a bit with the serving aspect as triple ball decreases the importance of the serving game," said Siemens.
The team's last tournament earlier this month was the AVA provincials in which it placed fifth overall in the third division of U13.
"We had a great tournament. The girls played such great defence and we had so many exciting rallies. We came out second in our pool and lost our first playoff game. After that match, we won all our games," said Siemens.