Lacrosse now official sport in Taber
Posted on May 1, 2019 by Taber Times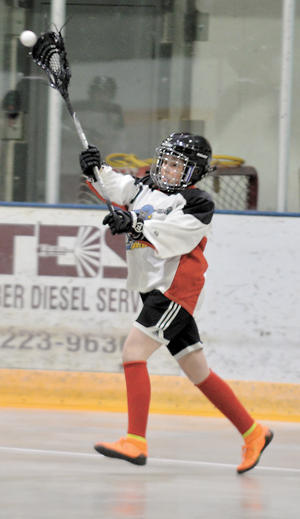 TIMES FILE PHOTO
By Greg Price
Taber Times
gprice@tabertimes.com
Taber made history this past week, when teams from the area officially played their first league games under the Southern Alberta Lacrosse Association (SALA).
Jared Capner, president of the local association, had played lacrosse for 13 years, with his travels taking him to Lethbridge, Calgary and the United States.
"For the longest period of time, we had nothing in Taber, and there were five or six of us that played together and we always wanted to get something going in Taber," said Capner, president of the Taber Lacrosse Association, which has double-digit board members and has its own bylaws in place. "I talked with the president of SALA and we had some people attend the AGM last year and it sort of grew from there, getting a hold of the Alberta Lacrosse Association, got a hold of Lethbridge Lacrosse to find out if we could fall under them for a season to start to get our feet under us and get all our stuff figured out."
From there, two Taber lacrosse teams were created with squads at the peewee and bantam age levels, with an official board being formed and a Facebook page.
Long-time lacrosse player Justin Schmidt is the head coach of the Taber peewee team (14 players) while Capner is the head coach of the bantam team (19 players) with each assisting the other on their respective teams.
"Our peewee team has five players that are returning players, having played previously in Lethbridge. Our bantam team has eight or nine players playing in Taber that have played before," said Capner.
For the first year, the Taber teams will be going under the Lethbridge Cudas banner. SALA consists of teams from Taber, Lethbridge, Crowsnest Pass, Brooks, Medicine Hat, Claresholm and Fort Macleod.
"This is huge. This was something I wish we pushed forward when I was a kid in Taber and see it grow. Seeing some of these parents enjoy that we are in Taber instead of Lethbridge, and even when we put those (lacrosse) lines down in Taber (arena), you saw the kids eyes light up that they realized this is their home barn and officially playing in Taber. It's been really rewarding from the president and board side to see it grow," said Capner.
Practice sessions are Tuesdays and Thursdays at the Taber Arena, with peewees starting at 6 p.m. and the bantams at 7 p.m. Two games are usually played per weekend, with teams from various areas gathering in hubs to cut down overall travel.
"We sort of travel between Lethbridge, Medicine Hat, Brooks, and Taber where we will be traveling this year. There isn't 'home games' per se," said Capner, adding the peewees played in Taber on Monday.
Capner quit hockey in his early teens to pursue lacrosse and has been in love with the sport ever since, which he says combines a little bit of everything.
"I just found the speed and physical aspect of it great. There's also the camaraderie among the players being a small community overall. I'm still great friends with guys I played lacrosse with," said Capner. "The way I've explained it to a lot of people is it's sort of a cross between basketball, hockey and football. It has the speed of hockey, the play-style of basketball and the physical presence of football."
Taber's peewee lacrosse team played in Lethbridge on Saturday where it lost to Lethbridge 8-2 and Brooks 22-0. Roman Capner and Ryan Grey scored for Taber.
"The peewees had a bit of a rough weekend, but there are a lot of kids just learning the game. They played really, really well their first game, it was pretty evenly matched the two teams. They played against a tougher Brooks team in their second game. Brooks is probably the number-one team in the league," said Capner. "They got beat up pretty bad that game. But, from where we started from day one to their first game, their stick skills with passing and catching has improved enormously. They are learning the positions they need to play, they are learning different offences and defences. The peewees have grown huge."
The Taber bantam lacrosse team won both of its games on the weekend against Crowsnest Pass Ravens in 14-6 and 10-2 victories.
"The first game we played a little scared at first and went down 3-0 right off the bat. But, we slowly clawed our way back into the game. The boys bought into the system we were running and figured out their changes. We got the passing and catching down," said Capner. "Game Two, we learned what they were like in Game One and we made sure we pressured the ball as much as we could and we played a very physical game. By half way through the second period, the other team had no legs left and they were pretty much dumping the ball down to catch their breath."
In the 14-6 win, Evan Rabusic notched six goals. Heath Hansen tallied twice and Hunter Damberger, Evan Friesen, Carson Dongworth, Walker Skiba, Owen Schnoor and Evan Koizumi each had singles.
In the 10-2 win, Rabusic cored three more times and Hansen, Dongworth and Skiba each had two goals apiece. Jacob Soldier had a single.
From the board formation, recruitment, practices and games, it has all marked a solid start to Taber lacrosse where the teams will eventually be called the Thrashers.
"We are going to hit up the schools this fall and we are going to do a 'come try out lacrosse' that we are going to encourage people to do. We are also going to be at the Spark Fair at the civic centre on May 31 with a lacrosse booth in case anyone is interested," said Capner. "People who want to watch, they can come on down and watch the sport and cheer on the players at the arena."
Taber bantam lacrosse team plays at the Taber Arena on May 16 at 7 p.m. at the Taber Arena.