Cadets benefiting from golf tourney
Posted on April 24, 2019 by Taber Times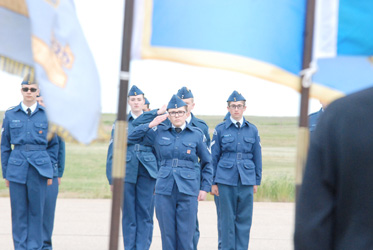 TIMES FILE PHOTO
By Greg Price
Taber Times
gprice@tabertimes.com
The Sixth Annual Paul and Bernice Giroux 'We Have Not Forgotten' Memorial Golf Tournament will be flying high this year in its support of a worthy cause.
It is an organization that has helped many a youth over the years, but many still do not know its exact scope in the 225 Royal Canadian Air Cadet Squadron – Taber Comet, an organization that has 77 years of local history.
"There's people who don't know about the air cadets in Taber and they do a lot around the town. We try and promote them as much as we can, we have a Facebook page, and we try and do as much stuff out in public as we can," said Darryl Reid, chairperson of the 225 Royal Canadian Air Cadet Squadron – Taber Comet, who was coached by Paul Giroux as a child in hockey.
"What shies some kids away is when they think of the air cadets is they think they are joining the military, but they are not. We are sponsored by the Department of National Defence, but it's simply a youth program that starts at 12 and it ends at 19."
Steph Giroux-Feininger, a co-organizer of the memorial golf tournament went through the organization's Facebook page and never knew the depth of activities and history the group had.
"I didn't even know the head of the Canadian Navy (Vice-Admiral Ron Lloyd) was a former Taber air cadet," said Giroux-Feininger. "It's a fantastic organization. There should be more available for youth out there than just sports. Not everyone plays hockey, not everyone plays baseball or soccer. This was something right up our alley where my dad was really big into youth. He wanted to see kids succeed and our tournament can help promote cadets. We have already got great feedback and donations from organizations."
The cadets can prepare you if you want to do a career with the Canadian military, but the focus of 225 Royal Canadian Air Cadet Squadron is to teach many different skills you can use in various life situations while also building character and teamwork.
"You are parading, you are drilling, you are learning survival skills. You are teaching leadership, loyalty, having your buddy's back. It's a great group of kids with high standards," said Reid. "We don't have any squabbles. I've watched a lot sports, but with air cadets, you don't see any squabbles. When the cadets help out with different organizations, their organizational skills come in really handy in getting jobs done and they are never late. Different groups use us all the time."
The 225 Royal Canadian Air Cadet Squadron is nearly done its activities for the year, with its final parade day on June 8 at the Taber Community Centre, apart from its regular Canada Day appearance in Taber.
Interest in the 225 Royal Canadian Air Cadet Squadron has had its peaks and valleys with the organization currently enjoying a peak.
"Interest seems to be coming around. This time two years ago we had nine kids."