Dynamic duo enter the Hall of Fame
Posted on April 10, 2019 by Taber Times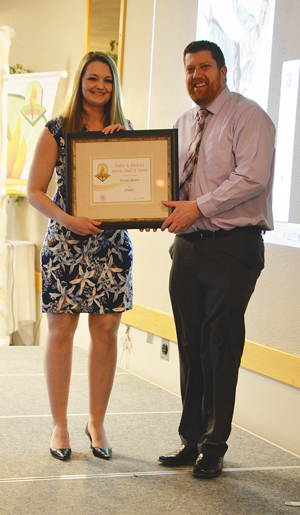 MAKING THEIR MARK: Taber and District Sports Hall of Fame committee member Greg Price proudly presents 2019 Hall of Fame inductee Brandi Merritt-Miyanaga with her certificate during the induction ceremony at the Heritage Inn on Saturday night. TIMES PHOTO BY TREVOR BUSCH
By Trevor Busch
Taber Times
tbusch@tabertimes.com
Singled out for special recognition of their many contributions to sport in the Taber area, Brandi Merritt-Miyanaga and Del Cleland have been inducted into the Taber and District Sports Hall of Fame.
Hosted at the Heritage Inn on Saturday evening, the banquet and induction ceremony first saw taekwondo champion, national coach and instructor Merritt-Miyanaga take centre stage.
"I'm extremely honoured to be inducted into the sports hall of fame. I'd like to thank the Taber and District Sports Hall of Fame and the Town of Taber for recognizing coaches and athletes from our community and making awards like this possible."
Merritt-Miyanaga competed at multiple world championship-level events for international competition, taking many medals in the process from 2003-2011 in various pursuits where her travels took her to such exotic locales as Poland, Germany, Italy, Argentina, Spain and Ireland as either an athlete or coach. And this is not including the multiple medals she has received at either national or Western Canadian championships. Merritt-Miyanaga officially retired from active competition in 2015.
"Through the years I have built many relationships with athletes, instructors, masters and grand masters from around the world, who I consider to be part of my taekwondo family," said Merritt-Miyanaga. "We have helped each other through rough times and good times, and all of these memories have shaped me to be the woman that I am today. After retiring from competition, I've been able to share my passion and knowledge of taekwondo through coaching and training, as I continue to attend seminars and courses, I'm able to pass along the most up-to-date training and help athletes prepare for world-level competition."
Merritt-Miyanaga has brought her passion for the sport back to her country and community, coaching at the national level and operating her own school in Lethbridge and Taber.
"As you know, taekwondo hasn't been just a sport to me, it's been a part of my everyday life. It's really who I am. I've been extremely fortunate to have parents that supported and guided me through the years, and I can't thank them enough for everything they have done for me. So thank you, dad, and my mom, who went to every single world championship with me."
Next to take the stage would be Del Cleland, a long-time coach and mentor for many athletes throughout the area involved in high school sports. Cleland opened his acceptance speech by talking about some of the past inductees and their contributions, such as Dr. Gerald Beckie.
Factoring in both W.R. Myers and community athletics, Cleland devoted decades to molding young minds in the Taber community, be it volleyball, baseball, basketball, hockey, track and field, gymnastics, skiing, and Southern Alberta Summer Games. Among the honours in those sports, Cleland received a Max Gibb Award from the Southern Alberta Recreation Association (SARA).
"Much of what you've heard tonight has depicted me as an 'old-school hard ass'," said Cleland. "And for the most part I was. But you have to understand — and all the men and women that I have coached in the past understand this — I may have had a hard exterior, but I was pretty soft and lumpy on the inside."
Cleland earned Varsity Coach of the Year four times for the Southern Alberta High School Volleyball League. During his lengthy high school volleyball tenure, Cleland was at the helm for three gold, four silver and two bronze at 3A provincial championships. Varsity volleyball teams at W.R. Myers were coached to 20 South Zone banners over 29 years.
"I'd like to congratulate Brandi for her excellence in the sport of taekwondo as an athlete, and I commend her for paying it forward, and her continued involvement with the sport that she loves," said Cleland. "I think that's so important that those of us that have played sports in our past do that at some point in time in our lives… many of my former players have paid it forward as coaches since playing high school volleyball by becoming coaches themselves."
For both junior and senior varsity volleyball teams, Cleland earned 113 tournament titles over 32 years. All this, despite never having played volleyball as a child. The numerous accolades have not only earned Cleland a spot on W.R. Myers' Wall of Fame, but also induction into the Alberta Schools Athletic Association Hall of Fame last year.
Inductees in the recent past include Roy Baroldi (Builder, 2006), Ted Smith (Athlete, 2006), Doug Stevens (Builder, 2007), John Braun (Athlete, 2008), Bob Fettig (Builder, 2012), and Dale Tillman (Athlete, Builder, 2015).