Peewee "AA" Golden Suns earn SCAHL accolades
Posted on April 4, 2019 by Taber Times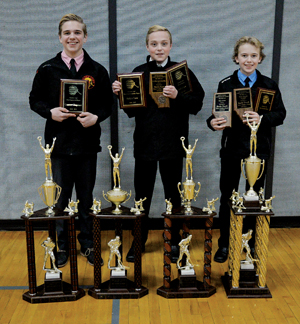 TROPHY CASE: Peewee Suns' Connor Chapman (Most Improved), Aidyn Law (Most Sportsmanlike, Player's Player), and Kade Duell (MVP) were recognized at the Taber Golden Suns Athletic Association's awards banquet last week. TIMES PHOTO BY GREG PRICE
By Greg Price
Taber Times
gprice@tabertimes.com
Taber Golden Suns Athletic Association celebrated its programs at its year-end awards banquet last week at the Taber Community Centre Auditorium.
Peewee, bantam and midget Suns teams selected its team award winners where some players also got league-wide recognition for their contributions to the 2018/2019 South Central Hockey League season.
The dynamic duo of Kade Duell (46 goals, 53 assists) and Aidyn Law (35 goals, 47 assists) helped headline overall scorers in the league during the regular season in which the SCAHL took notice.
Duell's 99 points in 32 regular-season games had him at the top of the heap for SCAHL scoring, giving him the Top Scorer and Most Valuable Forward in the SCAHL peewee division. For team awards, he was also given MVP.
Duell went wild including the playoffs, getting nine more goals and 15 more assists to his tally.
"The award was very well-deserved. He came to play every game. The one thing I admired about him most was he didn't just work hard on the forecheck," said Kevin Serfas, head coach of the Taber peewee "AA" Golden Suns of Duell's well-rounded game. "He was one of our hardest-working backcheckers as well. For 95 per cent of the time, he took care of both ends of the ice. He was a workhorse on our team. Duell may not be that large in stature, but he plays the game larger than life. Scoring tons of goals, but having more assists than goals, it shows he is not a selfish player. That's the type of player I love watching, it's a team game. It was exciting to watch him play hockey."
Law finished in the top-five in scoring during the regular season, and did that with leadership and demeanor qualities that earned him Most Sportsmanlike for peewee SCAHL.
Law was able to fill the stat sheet, including 13 goals and eight assists in the playoffs while only drawing an amazing six penalty minutes over 33 regular-season games, despite heavy attention by the opposition. Law earned Most Sportsmanlike and Player's Player in the team awards as well.
"Aidyn Law is a special kid in my mind. He just as easily could have been our MVP just as much as Duell was. The way he carried himself in the dressing room, and everything he did was exceptional in my opinion," said Serfas.
"He had the respect of all of our players. He was a kid all the other players looked up to. To be one of the tip scorers in the league and with the ice time he logged against some of the best players in the league, they would go after him. They knew what he was all about and to be that disciplined and not take (retaliatory) penalties, is impressive. He was one of the nicest kids I've ever had the pleasure of coaching. I'm not privy to the final votes, but I bet you he won by a landslide."
Not a ra-ra type of player according to Serfas, Law's laid-back demeanor gelled well in the peewee Suns' locker room that earned him the Player's Player award.
"The kids responded well to that and is probably why they respected him so much. Aidyn showed emotion, but in a very different way," said Serfas.
In the bantam division, Scout Sidam was given SCAHL Best Goalie honours.
Coaches get to put players' names forward for the various league awards where votes are cast and you cannot vote for your own player.