Golf season opens this week
Posted on March 27, 2019 by Taber Times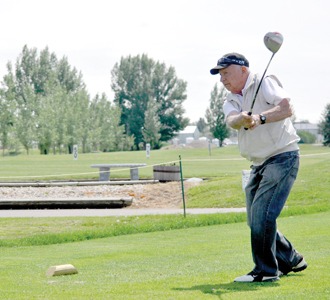 TIMES FILE PHOTO
By Greg Price
Taber Times
gprice@tabertimes.com
A harsh and cold winter stretch has been replaced by the warmer embrace of spring where the Taber Golf Club is on track to be open for golfers this Friday.
As per usual, it will just be the front nine that is open as maintenance crews whip the full course back into shape after a long winter's slumber.
"With the back nine and the tree coverage and all that, it is quite softer with more snow packed back there. It's not as easily cleared," said Erik Gerlock, head professional at Taber Golf Club. "The back nine still has some work to do."
April 1 is usually the go-to start date of many golf courses stretching across southern Alberta, but Mother Nature has proven to play April Fool's jokes on avid link enthusiasts in the past.
"From last year, we beat our starting date by 22 days or so," said Gerlock of the extended poor weather in 2018. "The couple previous seasons before that we were March 9 and March 20. It's all up to the weather."
Harsh winters before the start of golf season are not necessarily a bad thing for the Taber Golf Club, as long as there is a consistent break from it heading into warmer spring weather.
It is when Mother Nature can't make its mind up from a day-to-day basis where it becomes a problem.
"When it snows, then starts melting and then freezes again and snow again, you get layers upon layers. It gets harder that way," said Gerlock. "A consistent winter is better than a sporadic one."
Gerlock estimates the back nine of Taber Golf Club will be opened between four to seven days after the front nine is opened on Friday.
A new initiative the Taber Golf Club is doing this year is free golf for kids aged 14 and under where some time restrictions apply on weekends and weekdays.
"We are trying to get kids out here. Even with them coming with their parents. Often parents don't want to be bringing their kids and paying $25 to $30 to see if they enjoy it," said Gerlock. "We are pushing really had for juniors and going into schools and telling them about junior programs. We need to get our junior numbers up."
The clubhouse also features new food service in the restaurant in Sherry Pearce with 3 Under Par.
For more information on Taber Golf Club and its upcoming tournament schedule, you can log onto http://www.tabergolf.ca or call 403-223-2951.