Rebels earn provincial silver
Posted on March 20, 2019 by Taber Times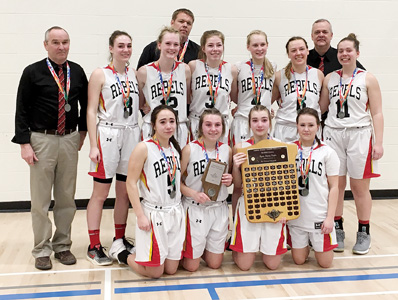 BATTLE TESTED: W.R. Myers Rebels varsity girls basketball team continued its medal moments this hardcourt season. TIMES PHOTO SUBMITTED BY KENNEY WOOD
By Greg Price
Taber Times
gprice@tabertimes.com
Shorthanded two starters for a portion of its run due to suspension stemming from the aftermath of a physical and heated zone final against the McCoy Colts, the W.R. Myers Rebels still managed to battle valiantly on the way to a silver-medal finish at 3A provincials in Athabasca this past weekend.
The team's focus in regrouping was apparent in its opening game, as the Rebels raced out to a 26-7 lead after the first quarter against Holy Rosary Raiders, on the way to an 89-57 victory.
"We have really focused all year about these provincial games and were ready to get started. We had left Myers (last) Tuesday, so mentally and physically we were prepared and we wanted to come out as they say, 'firing on all cylinders'," said Kenney Wood, head coach of the W.R. Myers Rebels varsity girls basketball team. "We played quite well and the whole team got on the same page. It was a great way to make a statement and show why we were the number-one seed."
Two players managed double-doubles to power the Rebels, including Anika Steed (18 points and 16 rebounds) and Dani Wright (19 points and 11 rebounds). Sophie Simek poured in 14 points to go with seven rebounds and Abby Wood had 10 points and eight rebounds. Austen Robbins hauled in 10 rebounds.
It marked another meeting with arch-nemesis McCoy in the provincial semifinal, where despite not being at full force, sent a message with a much easier game this time around than the zone championship, in an 84-60 victory.
"Having played McCoy in the zone final, we knew this would be a game filled with a lot of energy. Marty, Brandon, and I told the girls to make sure that they used this energy and convert it into positive thoughts and focused play," said Wood of the match against McCoy that featured its share of technicals, heated words and physical play in the zone final back in Barnwell. "We came out and went on a 13-to-1 run in the first five minutes. The start really set the tone for the whole game. Each quarter we were able to build a little more of a lead, and by the beginning of the fourth quarter, the game was pretty much over. This win accomplished our second goal of the year, which was to get back the provincial final."
Steed went off for 27 points and 18 rebounds and Wright had the double-double of 14 points and 16 rebounds. Simek poured in 21 points and Robbins added 10. Wood grabbed 10 rebounds.
It set the stage for the top two seeds in the tournament where the Rebels would eventually fall to Wetaskiwin Sabres 63-54 in a strong defensive tilt. The Rebels managed to go toe-to-toe with the Sabres for three quarters that was the Rebels leading by a point after the third-quarter break.
But outside shooting proved the difference as the Sabres managed to pull away eventually.
Wright had 12 points to go with 12 rebounds. Simek was top Rebels scorer with 16 points. Robbins had nine points to go with six rebounds and Steed chipped in eight points and seven rebounds.
"The first three quarters, neither team could extend any substantial lead. The fourth quarter saw the Sabres hit some really big three-point shots which put them ahead and put some pressure on us. We continued to fight hard to catch up, but each time we seemed to gain a bit of momentum, they sunk a three-pointer," said Wood. "Marty, Brandon and I are extremely proud of the team and so pleased on how they really pulled together this weekend. It's difficult to win a provincial title and really difficult to win back-to-back titles. Coming into the tournament as defending champs, we knew it would be tough, both physically and mentally. The coaching staff wishes the seniors the best as the finish their high school and to the six that will be returning — get to work in the offseason. November 1st will come quick."