Oil Kings quiet the provincial Storm
Posted on March 20, 2019 by Taber Times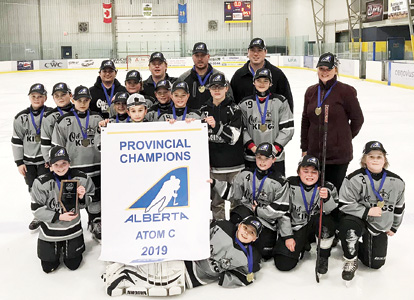 BANNER BEST: Taber atom Oil Kings are all smiles after becoming atom 'C' provincial champions in Duchess this past weekend, avenging an earlier loss in pool-play against the hosts, in a 6-4 championship victory. TIMES PHOTO SUBMITTED BY CATHERINE KERKHOFF
By Greg Price
Taber Times
gprice@tabertimes.com
With how the script was being written for the Taber atom Oil Kings in Central Alberta Hockey League play, you just knew this is how the Atom 'C' provincial final would work itself out.
Both provincial finalists emerged from the same pool as the Oil Kings defeated host and familiar face Duchess Storm 6-4, as the Oil Kings were able to withstand a late Storm rally that saw Duchess score all its goals in the third period.
Chase Strong and Heston Hansen each had two goals apiece and Ayden Umbach and Nixen Miller had singles. Konnor Wiebe, Carter Kerkhoff, Stronge, Raiden Koizumi and Lincoln Weiss recorded assists. Avery Remfert earned the win in net.
Special teams proved big for the Oil Kings who scored its last two goals on the power play and shorthanded respectively.
"I thought we played well throughout the tournament. We played well as a team and everyone was involved and we were having a fun time while we were there," said Danny Weiss, an assistant coach with the Oil Kings.
With Duchess almost making the comeback against Taber, so too did they in its semifinal game against Smoky River, the top team from the other pool in crossover play.
"Smoky River was ahead in that semifinal against Duchess 4-1," said Weiss, adding they knew they would be up against familiar foe Duchess in the provincial final, facing a team that had plenty of momentum with its furious comeback.
"We played Duchess in round-robin play and we lost to them. When we lost to them and we heard Duchess made it to the final, we thought 'oh geez'. We've played them a lot, we still have league playoffs to go with them. All season it has been back and forth. They win one, we win one. No one has won two in a row. It's always tough games with them. We were sweating there for a while. We knew a 5-0 lead wasn't safe from what we saw they did before."
Needing to win against the Oil Kings in round-robin play to advance to the playoff round, the Duchess Storm threw everything they had on the way to a 6-3 doubling of the Oil Kings to secure second place in its pool.
Stronge, Konnor Wiebe and Nixen Miller scored for the Oil Kings.
"We were trying a little bit of strategy that game that didn't really work out for us. In the final we kind of kiboshed our line matching and just rolled out the kids that were going hard," said Weiss. "We kind of gave up on synergy and just sent the kids out there to have fun and do what the kids knew what to do. In the end, the kids took care of it themselves."
Leading up to the provincial final, the Oil Kings earned first in its pool by dismantling the Mannville Hawks 15-3.
"I watched Mannville play and we thought it would be a tough game. But we got up on them quick and I think they got down on themselves and made it a little easier for us," said Weiss.
The Oil Kings also recorded an 8-4 doubling of the Drumheller Raptors.
Stronge scored four more times and Wiebe tallied twice.
Ayden Umbach and Lincoln Weiss had singles.
While the Taber Oil Kings have already ascended to the top of the mountain as atom 'C' provincial champions, they still have a Central Alberta Hockey League champion to determine this Saturday against the same Storm team back in Duchess on Saturday.
Given such young kids at the atom level, Weiss admits its going to be hard to stay focused in the deciding game of the three-game series between the two squads, given the euphoric high the team has already enjoyed this past weekend with a provincial banner.
"It's going to be tough. We are just going to have fun. The kids know they've won provincials and we wish we were going out on that note. You know Duchess is going to want to come out and try and beat us, saying they beat the provincial champions," said Weiss. "They are going to come out one hundred per cent, and I'm not sure if our kids are going to be totally into it. It's tough for young kids to remain focused after they've already won the biggest prize. We will see. Every kid had a great time at provincials with a great group of parents. There was lots of camaraderie and we definitely had a great time."