New bonspiel making its way to curling club
Posted on March 20, 2019 by Taber Times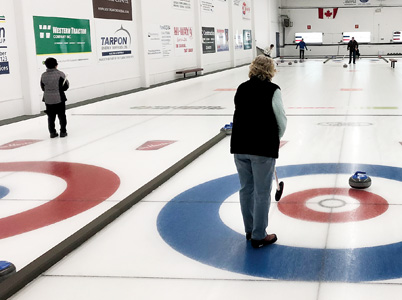 STICK TO IT: Interest has been gaining on people learning how to stick curl at the Taber Curling Club on Thursdays. TIMES PHOTO SUBMITTED BY STEVE SWARBRICK
By Greg Price
Taber Times
gprice@tabertimes.com
New inroads are being made into curling, and the latest offering will be front and centre at the Taber Curling Club on Saturday with the first ever Sturling Bonspiel which features a unique format from your regular curling.
Two-person stick curling has been introduced to curling rinks across North America, including the Taber Curling Club this season AND has seen some interest.
"We are currently up to about 20 players that rotate through on a drop-in basis at this time, all of whom have enjoyed this trial/introductory year," said Steve Swarbrick, a member of the Taber Curling Club who has been giving tutorials on stick curling every Thursday at the Taber Curling Club. "It has resulted in about 10 curlers coming in and back to the rink that would not normally be there, and we do expect that the group will grow a little as we are now allowing slide deliveries."
In stick curling, each team is comprised of two players.
One member of each teams stays at each end of the rink, and must not cross center ice. The two delivering curlers alternately deliver six stones each per end, while their teammates skip that end, then the roles are reversed. All games are six ends. Each stone must be delivered with a curling or delivery stick, from a standing or sitting (wheelchair) position.
Although for the upcoming Sturling Bonspiel, sliding deliveries will be allowed, thus the name change to Sturling. The 'S' is for slide or stick delivery, the 'T' is for two person team in substitution for the 'C' in curling.
Two-person stick curling is gaining prominence in the sport for those who have mobility issues and those who are new to curling and may be a little intimidated by the regular four-man game. For those wanting to take baby steps into their introduction to curling, an event like the Sturling Bonspiel is a good showcase.
There is the three-guard zone in regular curling, where you can't remove rocks from a guard placement in the front of the house for a certain amount of stones. For stick curling, the first three stones delivered in an end may not be removed from play before delivery of the fourth stone of that end. If that happens, the delivered stone is removed from play and all other stones are returned to their original position.
The curling club has one last stick curling session on Thursday before the bonspiel if people want to give it a try and/or ask questions before the bonspiel. Practising goes 6-7 p.m. on Thursday at the Taber Curling Club, with games starting at 7 p.m. and take about an hour.
"We do now have people coming down wanting to play, and others wanting to learn," said Swarbrick in an earlier interview with the Times. "We want to help teach people so they feel comfortable enough to play some games. Hopefully it catches on and everything has been positive so far. It's opened people's eyes for a different game of curling. Everyone who has tried has liked it and enjoyed it and seen the benefits."
Sign ups are still being taken for Saturday's Sturling Bonspiel that will be taking a maximum of 16 two-person teams, where three games will be guaranteed per team with a cost of $50. Sign ups can be as a two-player team or singles who will be paired up.
Call Steve Swarbrick at 403-634-3445 to sign up or for more information, or you can e-mail him at steve.swarbrick2018@gmail.com.
"We are hoping that we can generate some more interest in the sport before next year," said Swarbrick.
The Sturling Bonspiel at the Taber Curling Club is scheduled to run from 9 a.m.-4 p.m. on Saturday.