Celtics earn league all-star nods
Posted on March 20, 2019 by Taber Times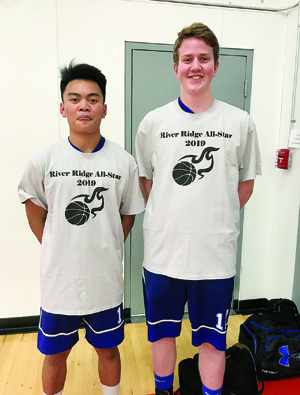 STAR SEARCH: Carl Rodrigo and Tyrell Martens were selected as all-stars in River Ridge Basketball League play for the 2018/2019 season. TIMES PHOTO SUBMITTED BY CAROLYN SIEMENS
By Greg Price
Taber Times
gprice@tabertimes.com
The basketball season is in the books for high school competition, but the afterglow of recognition still remains in River Ridge Basketball League play as all-star selections were made.
For the St. Mary's Celtics boys basketball team, Carl Rodrigo and Tyrell Martens were given all-star nods.
Rodrigo has graduated from the St. Mary's program, where his love of the game was self evident since playing in his junior-high years.
"Carl has been our ball handler all of his Grade 12 year and the majority of his Grade 11 year. So for the last two years he has consistently been the person who has been running our offence," said Ken Gabruck, head coach of the St. Mary's Celtics boys basketball team. "He has the speed and quickness to handle the ball. A lot of defenders struggled to keep up with his quickness in both his footwork and his hands. He could move the ball very well."
Rodrigo is used to running offences in St. Mary's school athletics, having also been the setter on the boys volleyball team.
"He is a good outside shooter as well, he is a very high-percentage three point shooter," said Gabruck, adding he saved his best stretch of basketball for St. Mary's home Double Blue Tournament. "He fit into the team really well. The kids respected him and he was very coachable."
Speaking of coachable, Gabruck added that described Tyrell Martens who transferred from Taber Christian and continues to improve his hardcourt game every day.
"As a Grade 11, this is his second year and he's really developed into a good post player. He is strong, he is quick and he has the ability to go up with both hands shooting which has made him very difficult to defend against," said Gabruck of the six-foot-3 Martens. "He was very solid under the boards and he drew a lot of fouls."
One of the tallest player son the team to go with strength, Martens wa soften tasked with doing the dirty work inth epaint, defneding th eoppoistion's largst player.
"One of his biggest attributes is he's very coachable. He's a sponge. You tell him something and he'll work on it until he gets it," said Gabruck. "He was by far our best offensive rebounder that I've had in the last three years. Even as a Grade 10, by the secondd half of the season, he was our dominant offensive reobunder."
As many strides as Martens has already made, Gabruck is exicted to see what is in store for the youngster in his senior year.
"Usually your Grade 12 year is by far your best year and we are looking forward to him having a great year. There are some things he needs to work on to become more consistent, but the fact he is so coachable and such an intelligent student and player, he'll do it."