Rebels overcome late McCoy rally
Posted on March 13, 2019 by Taber Times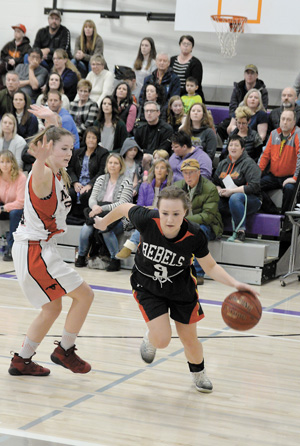 CROWD PLEASER: Alex Haller of the W.R. Myers Rebels varsity girls basketball team drives baseline against a McCoy Colts defender during 3A zone championship play in Barnwell. TIMES PHOTO BY GREG PRICE
By Greg Price
Taber Times
gprice@tabertimes.com
W.R. Myers Rebels varsity girls basketball team was able to withstand a McCoy Colts second-half uprising on its way to the 3A South Zone banner at Barnwell School on Saturday, in a 88-79 victory when the dust settled.
The Rebels built a 19-point lead at half-time, then saw its lead evaporate as the Colts galloped to a furious third-quarter comeback where fans in the packed bleachers were on pins and needles in the fourth quarter.
"We knew McCoy was not going to roll over. We came out trying to hold onto our lead, but only scored 19 and gave up 36 points. McCoy came out hitting everything they threw at the hoop. It made it a two-point ball game going into the fourth," said Kenney Wood, head coach of the W.R. Myers Rebels varsity girls basketball team.
"We settled down on defence. The girls had to fight hard to win and we have accomplished one of our team goals winning the zone championship."
Kitawna Sparks had 19 points to go with 14 rebounds. Also recording a double-double was Dani Wright with 10 points and 11 rebounds. Alex Haller poured in 17 points and Austen Robbins added 15.
Earlier, the Rebels trounced Eagle Butte Talons 87-36 to make it to the zone championship.
Sparks had 26 points to go with 12 rebounds. Abby Wood, Anika Steed and Hayley Jones all grabbed 10 rebounds apiece. Sophie Simek netted 13 points and Haller had 10 points.
"We came out a little tentative, but after a half-time discussion, we came out playing much better defence and held them to only 13 points. We continue to work on our offensive sets and were able to move the ball well and get some really good looks at the hoop and were able to knock our shots in," said Wood.
The W.R. Myers Rebels are off to 3A girls provincials at Edwin Parr Composite School in Athabasca, 145 kilometres north of Edmonton, from March 14-16.
"We still have some things we can improve on. We are super excited to return to provincials and defend our title," said Wood.