Peewee Golden Suns make its SCAHL mark
Posted on March 13, 2019 by Taber Times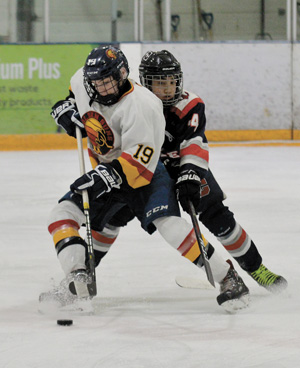 SUNSCREEN: Connor Chapman of the Taber peewee "AA" Golden muscles in for puck possession against Chestermere Lakers during SCAHL south conference championship play. TIMES PHOTO BY GREG PRICE
By Greg Price
Taber Times
gprice@tabertimes.com
Taber peewee "AA" Golden Suns battled to the very end of its South Conference championship tournament at the Taber Arena, as the top-two ranked teams made it to the final.
In the end, the Suns (26-11-2) eventually set against Medicine Hat Hounds (33-4-2) in the championship final, 7-3.
Aidyn Law, Kade Duell and Brady Magarrell scored for the Suns in the loss, as the Hounds were able to race away in the third period thanks to three unanswered power play goals.
"Against Medicine Hat, we've had successes, and we've had the crap beaten out of us by them. They are just a good team from top to bottom," said Kevin Serfas, head coach of the Taber peewee "AA" Golden Suns. "At the start of the year, they (Medicine Hat Hounds) had like 140 players to choose from that tried out. We were at 36, so I am extremely proud of these boys and what they were able to accomplish, especially being a pretty young team."
The Suns were put on attention right at the start of its conference championship run, as the squad suffered a 7-2 loss to Lethbridge Hurricanes Red to kick off play last Thursday morning — a team they also lost to, to end its regular South Central Alberta Hockey League season before playoffs.
"Lethbridge Red was a team that was scary to me. But taking that loss, it changed our approach to the rest of the way. And maybe in a good way it got the butterflies out and set our task at hand," said Serfas.
Law and Bowman Klippenstein tallied for the Golden Suns. Kahil Wright took the loss in net, facing 34 shots on goal.
Peewee Suns bounced back to rattle off four straight wins to make its way to the final, starting off with a 6-3 doubling of Cranbrook BP Wings on Thursday afternoon.
Duell tallied twice and Magarrell, Connor Chapman, Colby Gulliver and Oscar Oliveros had singles. Law had two assists.
Brylin Noble had the win in net, facing 33 shots on goal.
Friday's slate featured a tight contest with a 5-4 edging of Foothills Bisons.
Law potted the hat trick and Magarrell tallied twice. Duell drew three assists.
Wright earned the win, stopping 28 of 32 shots on net.
Saturday's slate was much easier, with a 19-1 trouncing of Chestermere Lakers.
Duell tickled the twine six times and Law had five goals. Chapman had the hat trick. Magarrell notched two goals. Hayden Onda, Klippenstein and Oliveros had singles.
Noble earned the win, stopping 19 0f 20 shots.
The Golden Suns battled their way to the championship with a 5-4 victory over Lethbridge Hurricanes White on Sunday morning in semifinal play.
Law had the hat trick and Gulliver tallied twice. Magarrell had three assists and Duell and Chapman had two helpers apiece.
Wright earned the win, facing 32 shots on net.
"It was a great game where we came out with a lot of jump and built an early lead with a couple of goals. We remained in control pretty much throughout the game," said Serfas. "We did get a little undisciplined which is a little uncharacteristic for us — all their goals were off the power play. Being such a young team with seven first-year guys, I think we just ran out of gas by the time we got to the final and it was all said and done. We gave it our all in the Lethbridge game to get to the final."
With a SCAHL season now over, but reflecting on the very healthy win total and second-place finish in conference, Serfas is quite happy with how the team played and its improvement over last season.
"The kids moving up to bantam, I am excited for them. There are a couple of kids who have a shot at playing bantam 'AAA' in Lethbridge and the rest will play 'AA' bantam in Taber," said Serfas. "And I'm looking forward to what we've already accomplished in peewee with our first-year players. Hopefully, we can add from there. It was a great year."
Serfas admitted he was emotionally and mentally exhausted on Monday, with the grind of a long SCAHL season in which he will miss the team dynamic that was very strong among its players that was easy to get attached to.
"We've been at the rink since Sept. 5 which is when tryouts began, which is 110 times. It's a little emotional because you are with the kids that long, and you almost see these kids more than you see your own family over the winter and then it's just over," said Serfas. "Some of these kids will never play together again. It's a time for reflection and it's some good memories."
Taber Golden Suns Athletic Association will be having its awards banquet on Wednesday, March 27.