Leiper tells of time with Toronto Blue Jays
Posted on March 13, 2019 by Taber Times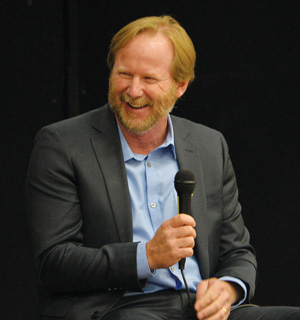 BLUE JAY MEMORIES: Former Toronto Blue Jays 1st base/outfield coach Tim Leiper was this year's featured speaker at the Vauxhall Academy of Baseball Awards and Fundraising banquet. TIMES PHOTO BY COLE PARKINSON
By Cole Parkinson
Taber Times
cparkinson@tabertimes.com
While it certainly isn't baseball weather outside, the Vauxhall Community Hall was decked out in all things baseball for this year's Vauxhall Academy of Baseball Awards and Fundraising banquet.
Past banquets have featured a plethora of different Toronto Blue Jay-related personalities, and this year was no different as the featured speaker for the March 2 event was former Blue Jay first base/outfield coach, Tim Leiper. A former outfielder for 12 seasons in the minor leagues, he turned his eye to coaching in the mid-1990s.
Hailing from Whittier, Calif., Leiper joined the Jays organization in 2013 as a senior advisor for the minor league system before taking over as the first base and outfield coach in 2014, but with the Jays recent turnover in coaching staff this past offseason, Leiper was relieved of his duties.
On top of coaching the Blue Jays, Leiper has been a mainstay with Baseball Canada and he says some of his favourite memories have come from that program.
"I was a non-drafted free agent out of high school, which probably wasn't the best career decision that someone could make," said Leiper. "I played in the minor leagues for 12 years and then started my coaching career right away. Probably my best decision was to quit playing and get coaching. I had a really good run as a coach and really wasn't a very good player. I ended up in some really great situations and had great experiences." 
After starting his coaching career in 1996, he held many different positions all throughout Major League Baseball before eventually joining the Blue Jays organization.
Upon taking his role within the Toronto Blue Jays, success soon followed as the team would make consecutive playoff appearances, the first time since 1993.
The 2015 MLB season was perhaps the greatest Blue Jays team since the World Series-winning teams in 1992 and 1993 as Josh Donaldson won the American League MVP and the team acquired pitcher David Price and shortstop Troy Tulowitzki, which propelled them to an AL East division title.
While Joe Carter's 1993 World Series-clinching home run is still the biggest and most important hit in Blue Jays history, 2015 saw Jose Bautista's massive Game 5 American League Division Series home run against the Texas Rangers.
Leiper had a front row seat to one of the biggest Blue Jay home runs in the past 25 years and reflected on it as audio from the call was played for the crowd.
"It's funny because I had asked Jerry Howarth (former Blue Jays radio broadcaster) how he called it, I seriously had never heard that and I think Jerry did a good job. For me, it was the greatest vantage point ever. The inning was crazy, obviously. At this point in the game, the benches had emptied two or three times which (former Blue Jays starter) Mark Buehrle started, most of them by screaming at the end of the dugout. Then the fans were throwing beer cans on the field, it was crazy. I had coached in Venezuela, the Dominican and played in Mexico and it was almost like a scene from a Winter League game. You know when Canadians are throwing full cans of beer on the field, they are very upset," said Leiper to a big laugh from the crowd.
"When Bautista hit the home run, I was positioned down the line a little bit and I was really caught up in the moment. I just figured something good would happen and I remember being very keyed in on him. When he hit the ball, the sound was deafening and I remember saying to myself, 'you gotta run,' and then I said you know what, there is no bigger moment than right now. The guy just hit one of the greatest home runs that I had ever witnessed and I was like 'just enjoy it.' That was really special."
The following year saw the Blue Jays in the 2016 AL Wildcard game against the visiting Baltimore Orioles. Tied 2-2 heading into extra innings, Blue Jays fans once again were witness to another massive home run for the club.
"This was a little bit different but still awesome. They brought in (Ubaldo) Jimenez (for the 11th inning), first of all, every inning that (Zack) Britton didn't come out for Baltimore, it was like what is going on here? Why is he not coming out? They were running out of pitchers and we were running out of innings, every time he didn't come out we felt lucky."
"So when they brought in Jimenez, we were like this is good for us because there are ways we can score. (Devon) Travis led off with a single and for me, it was great because I thought he could steal a base because we always stole bases off Jimenez. I got caught up in that but then JD (Josh Donaldson) hit a first-pitch single to left field and (Nolan) Reimold bobbled the ball, Travis did an excellent job in getting to third. At that point, there is nobody out and runners and first and third and Eddy (Edwin Encarnación) was up. You knew it was over, and again, I just sat and watched knowing something cool was going to happen."
 
While the Blue Jays experienced tons of success in 2015 and 2016, 2017 and 2018 were not kind to the team. Missing the playoffs both years, 2018 saw a majority of the coaching staff let go at the end of the season. One of the biggest departures was former big league manager, John Gibbons.
"How you perceive Gibby on Television, watching his interviews and things, that is exactly how he is. Great leader, calm and there is a fire to him but unless you know him, you don't really see it. His leadership for that club, we had a lot of strong personalities, everybody was really different. Some guys were mouthy, some were quiet and occasionally guys really pushed the line but Gibby always handled it. You didn't know about it but you knew he did something. The other thing was he took the pressure off the players, there was never a press conference where he said anything bad about anybody. There were times where he could have but he always kept his cool. This (past) year was challenging for all of us," said Leiper.
While Toronto is in a perceived rebuild, the future looks bright and Leiper expects them to find their way back to success in the near future.
"It is a good group of young guys and moving forward I hope you get a chance to see them. Part of getting to see them and getting to know them is having team success. They are a bunch of guys who came through the minor leagues together and they are a tight-knit group. Like what you preach here, they are good people first and baseball players second. Guys like Danny Jensen (catcher) is great, Reese McGuire (catcher), (Vladimir) Guerrero Jr., (Bo) Bichette (shortstop) and (Cavan) Biggio (infielder)." 
As for what's next for Leiper, he is thankful for some time off and to continue coaching with Baseball Canada as they prepare for the 2019 Pan-Am Games which are being held in Peru.
"This is the first time I've had time off since I was 18 and it's the first time I haven't been to Spring Training and it is actually kind of nice. Baseball Canada is great, we just got back from a tournament in Brazil which we had to qualify for the Pan-Am games, which we did. With the Pan-Am Games, the Olympic qualifiers and going to Korea in October, that will keep me busy. I'll try to stay involved in baseball as much as I can. I'll hopefully go to Vegas to help you guys out a little bit."