Celtics fall to Kainai
Posted on March 13, 2019 by Taber Times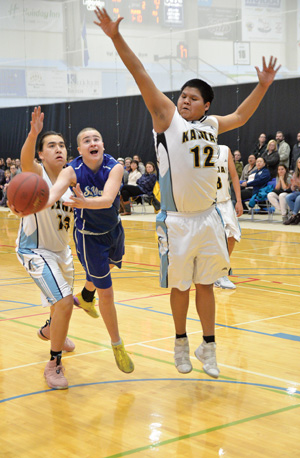 BALLER: Carter Hendricks of the St. Mary Celtics drives to the net during the team's first game at this year's 2A Zone tournament. TIMES PHOTO BY COLE PARKINSON
By Greg Price
Taber Times
gprice@tabertimes.com
The St. Mary's Celtics boys basketball team battled hard against Kainai Warriors in its opening game at 2A South Zone competition at Lethbridge College last week, but a tough first quarter was its undoing in a one-and-done 91-73 loss.
"We really got off to a bad start in the first quarter. Their fast break just killed us. They built up a 19-point lead on us in the first quarter," said Ken Gabruck, head coach of the St. Mary's Celtics boys basketball team.
After making some adjustments, the Celtics were able to claw back to a seven-point deficit at the half, but in the end were not able to climb out of the hole it dug itself, with three minutes left, being a nine-point ball game.
"We worked hard to get ourselves back into the ball game, but it was one of those things where we couldn't get over the hump to close it," said Gabruck. "We had some opportunities, but we didn't finish — some putbacks that would have been big didn't go down. They gave us a chance to get back in it, when we closed the gap the opportunities were there but didn't convert. In the end, they proved to be the better team."
Senior Jonathan Vanderbeek was the leading scorer for the Celtics in the last game of his high school career, pouring in 18 points. Other double-digit scorers included Luke Bell (13), Carter Hendricks (11), Seth Muller (11) and Angelo Logrino (10).
Jet Day Chief was able to score 26 points for the Warriors in which Peter Klassen and Beau Huseby combined efforts to mitigate the damage and give the Celtics a fighting chance in the game.
"He's a great ball player and he can shoot from anywhere and he's really quick. Those two boys did a great job to holding him to what they did. He's usually scoring 35 to 45 points a game," sad Gabruck. "We were undersized in body mass where they had some boys that were pretty broad across the shoulders and were able to push us around quite a bit."
A fairly young team with three Grade 10s and four Grade 11s on its 10-player roster, the Celtics more than proved their mettle against teams at its own skill level, but struggled for stretches against some of the top teams where the inexperience showed according to Gabruck.
"We were competitive with weaker and average teams and we won most of those games. Against the top teams, it was a struggle to sustain for a full 40 minutes," said Gabruck. "There seemed to always be a stretch against those teams, four or five minutes in a quarter teams would pull away from us. Some of that is due to inexperience where at times we had two to three Grade 10s on the court."
Gabruck gave a final tip of the hat to his three seniors in Carl Rodrigo, Vanderbeek and Logrino.
"Vanderbeek came in this year and gave us some really good minutes in a lot of games. Carl Rodrigo had a good season for us, he was more than adequate, he was a very good point guard," said Gabruck. "Logrino, when he got into the game, he played very well. And he was very solid in our final game."