Trojans power their way to championship seasons
Posted on March 6, 2019 by Taber Times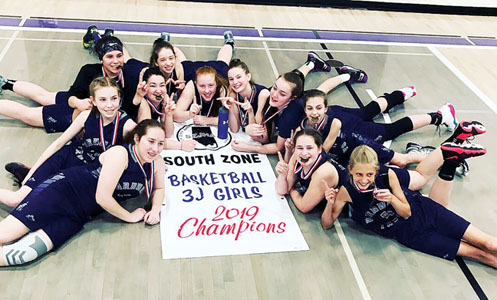 CHAMPIONS: The Barnwell Trojans Tier I girls basketball team are all smiles after winning their zone championship banner over the weekend. TIMES PHOTO SUBMITTED BY AARON EDLUND
By Greg Price
Taber Times
gprice@tabertimes.com
Barnwell Trojans basketball teams had a truly banner moment, as both the Tier I boys and girls teams captured zone championships.
Barnwell Trojans Boys Tier I team repeated as back-to-back champions at St. Catherine's School in Picture Butte, this past weekend.
The boys' first game was decidedly one sided as the top-seeded Trojans took out the bottom-seed Senator Gershaw from Bow Island 70-17.
Leading the way in scoring for the Trojans were Kade Lund and Chase Jensen. Jensen would also go on to receive a tournament All-Star award for his strong scoring and rebounding throughout the tournament.
Also notable were the strong performances of Grade 8s, Logan Porter and Colby Torrie, with Porter getting the nod for Player of the Game.
The Trojans also won by a lopsided margin against a talented and physical St. Michael's team from Pincher Creek, in a 76-47 semifinal zone victory, thanks to the two-headed monsters of Ty Nielsen and Joel Torrie. Nielsen, a six-foot-four post player led the team in scoring for the length of the 2J zone run.
"We are lucky to have great leadership within our older Grade 9 group, but we also have some nice up-and-coming younger kids as well," said coach Dale Nielsen when asked about the team's back-to-back zone championships. "Barnwell School has about nine boys in its entire Grade 9 class and seven of them play on our team. So to say we were lucky to have some good talent this year is an understatement. The kids have worked very hard this year and have had a great attitude."
The Trojans faced their stiffest competition in the zone final, but still managed an 83-57 win. Nielsen had a game-high 28 points for the Trojans, while Chase Jensen poured in 24 points. Kade Lund chipped in 11 points to go with strong bench performances by Brigham Porter and Talen Jensen.
The Trojans on the girls side also went into their zone run as the top seed, and decided to be gracious hosts for 3J.
"With only three weeks leading up to the tournament, there was no host school confirmed," said Aaron Edlund, coach of the girls Trojans and athletic director for the school. "Our girls are pretty strong this year. I thought that we had a good shot at winning 3J zones so I threw our name in the hat."
With only six teams at the 3J tournament, the Trojans found themselves with a bye to the semi finals, where they squared off against eventual bronze medalists Matthew Halton from Pincher Creek.
"I think we were able to overwhelm them with our pressure. Brooklyn Torrie, Maloree Rasmussen and Chloe Johnson took turns pestering Halton's star point guard," said Edlund.
Alysha Harker anchored the defence as the second string secured the victory in the second half.
The Trojans faced off against Immanuel Christian School from Lethbridge in the final, and earned a 53-42 victory to secure the 3J zone banner.
"While the lead got close to 20 a few times, Immanuel Christian wouldn't go away," said Edlund.
Olivia Edlund led the way for the Trojans with 24 points, 17 rebounds and eight blocks, proving herself a force on both ends of the floor.
"She had a monster game," said Edlund. "But we've gotten use to monster games from her. It's been an impressive season for the 8th grader."
Both Belinda Rios and Jenna Bailey had solid shooting games for the Trojans, quelling any Immanuel Christian hopes for a comeback.
"Every time Immanuel Christian would look like they were about to make a run, Rios and Bailey found the bottom of the net," said Edlund.
Despite strong performances by the Grade 8s on the team, Edlund tipped his hat to Andrea Heezen and her blue color effort.
"Heezen is easily our most improved player, and in the zone final she came up big, time after time with key rebounds or defensive stops. We are really going to struggle to replace Andrea next year," said Edlund.