Rebels girls zoning in for 3A play
Posted on March 6, 2019 by Taber Times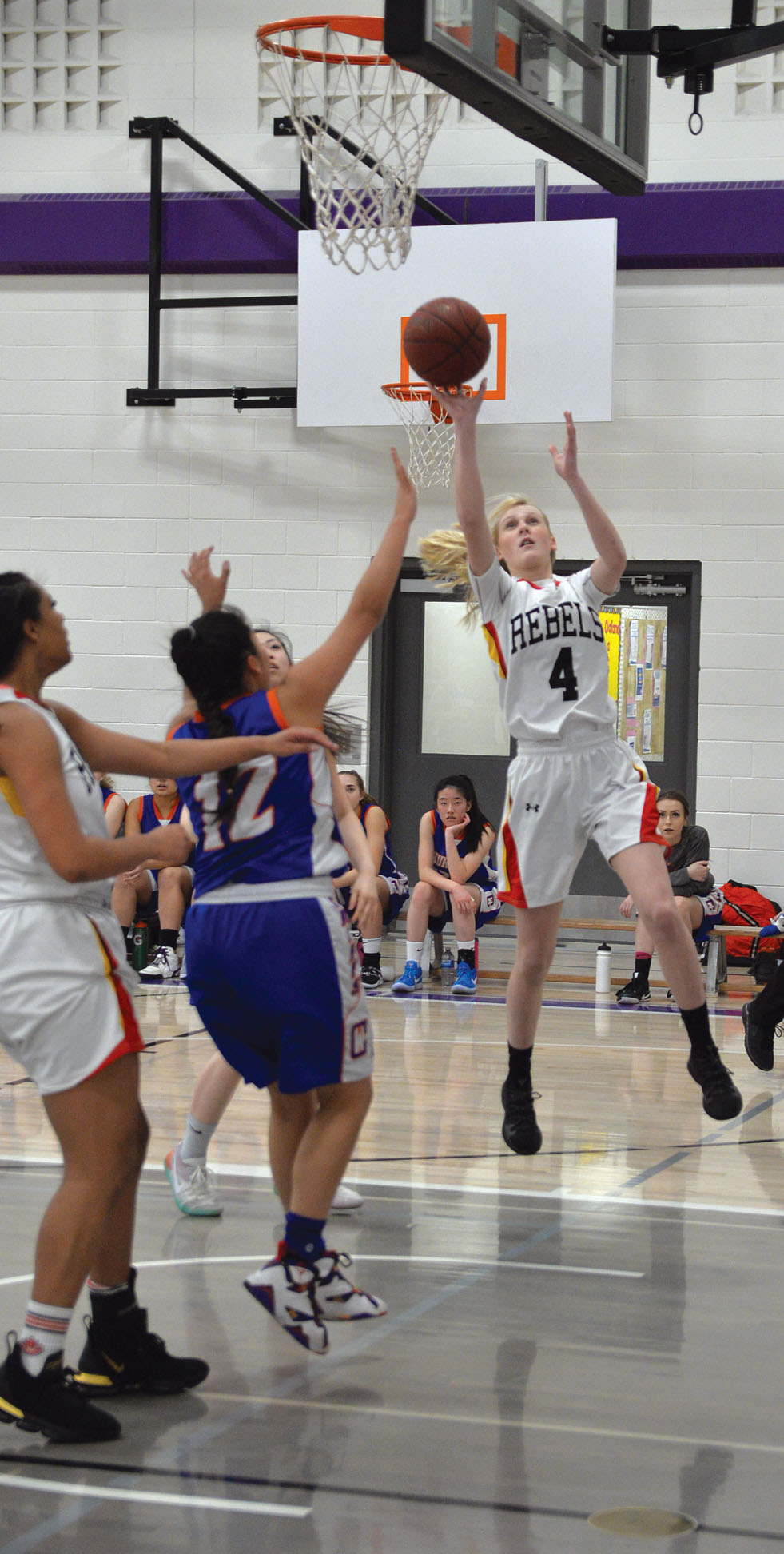 OFF THE GLASS: Sophie Simek of the W.R. Myers Rebels goes for the layup during the team's game against Winston Churchill. TIMES PHOTO BY COLE PARKINSON
By Greg Price
Taber Times
gprice@tabertimes.com
It was a busy time for the W.R. Myers Rebels varsity girls basketball team as it prepares for 3A South Zones this week in Barnwell.
The Rebels competed in three league games last week, starting off with a 93-90 victory over Catholic Central, which had plenty of drama involved.
"It was a very exciting game. There was a player on the Catholic Central team that managed to score 40 points on us," said Kenney Wood, head coach of the W.R. Myers Rebels varsity girls basketball team. "It was tied with us having the ball at the end. We made a couple of passes and got the ball inside and got the bucket and then a foul shot."
The workman-like effort by the Rebels had three players finishing in double-digit numbers for rebounds in the game.
Anika Steed hauled in 17 rebounds, Dani Wright snatched 16 and Kitawna Sparks had 10. Sparks was leading scorer for the Rebels with 36 points. Sophie Simek poured in 21 points and Austen Robbins chipped in 17 points.
The Rebels made quick work of the Winston Churchill Griffins on Friday with a home 83-30 victory. While the margin of victory was wide, so was the learning opportunity for the Rebels.
"We were up 42-8 at half and everyone got to play. Games like this are useful because we can work on many different offences and see how a team will react. With it being senior night we were able to recognize our five seniors in Kit, Austen, Sophie, Dani and Alex," said Wood.
Wright had 10 points to go with 10 rebounds for the double-double. Sparks had 17 points and Alex Haller had 13.
Rebels finished off its Southern Alberta High School Girls Basketball League regular season on the road on Saturday with a 78-58 loss to the always-tough Magrath Pandas.
Four Rebels finished in double-digit scoring in Sparks (11), Haller (11), Hayley Jones (11), and Robbins (10).
"We were up by two after the first quarter, and in the second quarter we came out really flat and only score six points. The second half we pretty much matched them," said Wood. "With our zone standing already decided, this games objective was to play well, work hard and have fun. We told the team that we were going to spread the playing minutes around and see what happens. Magrath is a great team and is undefeated in league. For three out of the four quarters, we gave the best team in the league all they could handle. As a coaching staff we think the team reached all three objectives. Marty, Brandon and I feel team has been playing some pretty good ball these past few weeks. We have been preparing all season for this upcoming weekend and feel the team is ready and excited to get into the zone tournament and hopefully onto provincials."
The Rebels go into 3A South Zone competition at Barnwell School as the top seed.
Zones go from March 7-9. The Rebels play the winner of Eagle Butte/Winston Churchill on Friday at 6 p.m. in Barnwell. The zone championship goes on Saturday at 4 p.m.