Peewee Suns rising at home for playoffs
Posted on March 6, 2019 by Taber Times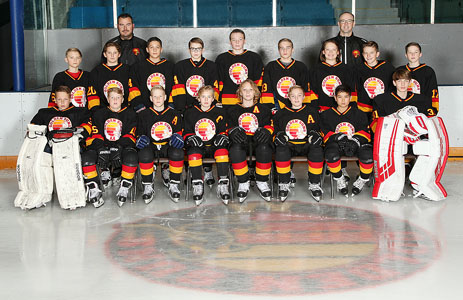 TEAMWORK: The Taber peewee "AA" Golden Suns will be front and centre this week at the Taber Arena when it hosts conference playoffs. TIMES PHOTO SUBMITTED BY CRYSTAL DUELL
By Greg Price
Taber Times
gprice@tabertimes.com
A young and hungry Taber peewee "AA" Golden Suns team is set to host playoffs this week, to put a punctuation point on what can already be considered a very successful season given early expectations.
The Golden Suns will go into playoffs as the number-two seed in the South Division who showed exactly how far they can go with an impressive 8-2 victory over top-seed Medicine Hat Hounds a couple of weeks ago, one of only three defeats the team suffered in its 33-game regular season (28-3-2).
"We've had a really solid season up to this point. The Medicine Hat win, we also beat Red Deer Parkland who is a really strong team out of the north. The boys all came together. Momentum wise, it's a boost. But, I've really been harping on the boys to celebrate the victories, but don't let the highs get too high on us," said Kevin Serfas, head coach of the Taber peewee "AA" Golden Suns.
"Second place in our division is a really good place to be set up for the playoffs and we achieved it on our own terms."
Kade Duell (46 Goals and 53 assists) and Aidyn Law (35 goals and 47 assists) are the two-headed monster that help lead the Suns attack, as the dynamic duo finished second and fifth overall in league scoring.
"We have some real high-end talent on our team with Law and Duell. They've really helped us get to our spot. But, what I've seen in the last four weeks or so when we've been able to beat these better teams, is when we rely on each other and trust our teammates and play as a whole group rather than as a group of individuals," said Serfas.
A pleasant surprise this year for the peewee Golden Suns has been an extremely green blueline that has more than held its own to propel the team to its current solid standing heading into playoffs.
"Four of our guys came out of atom having never even played peewee and one guy is second-year kid who was always a forward, so that's basically five defencemen who were new to the league," said Serfas.
"I think we're third in goals against and we had two games where we had 24 goals against which skewed the numbers and even with those games, our goals against is really, really low. I'm proud of the 'D' group. They have gone out there and adjusted to the speed of the game. It's a different league where peewee "AA" is the highest level of peewee hockey that you can play. We've seen some really, really good players out there and they have been able to it. I'd be remiss to not give my goalies a thumbs up too."
Serfas added the team has already exceeded expectations given there were so many variables this year that could have swung the team in various directions for overall results.
"If you would have told me we would have finished in second place at the beginning of the season, I would of taken that even money. We have done a good job as a group and as a team," said Serfas. "I've had some really good help from my assistant coaches as a rookie coach this year in the league. It's a far cry from where this team was at this time last year. We were really concerned at the start of the year because we were such a young team. We have seven kids who have (20)07 birth years, where a lot of these teams have maybe two or three. As a young group, we have done a really good job of battling hard. It has been a lot of learning for everybody and everybody has bought it and it's come along nicely."
Always preaching disciplined hockey, a Suns team that has seen its power play improve in recent games to go along with scarce appearances in the sin bin penalty box has made a team that is constantly playing at an advantage.
"Last year the peewee Suns were the third-highest penalized team in the league and this year we are the least penalized team out of 18 teams and it's by a lot," said Serfas. "By playing at either even strength or on the power play for the majority of the season, it has enabled us to do a lot of the things to get us in the spot that we are in and it is going to help us."
Taber peewee "AA" Golden Suns playoff runs starts off with games at 9 a.m. and 2 p.m. on Thursday at the Taber Arena. Play continues for the Suns on Friday at 11:30 a.m. The Suns have another game on Saturday at 11:30 a.m. Semifinals start at 10 a.m. on Sunday with the championship final at 4 p.m. at the Taber Arena.