Novice Oil Kings click on its numerous klicks to banner
Posted on March 6, 2019 by Taber Times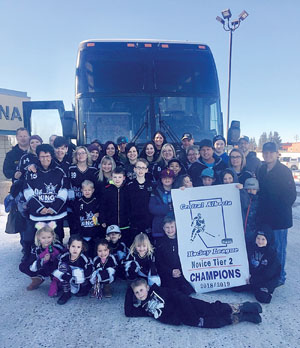 ROUND AND ROUND: Taber novice CAHL Oil Kings made a road trip out of it on a team bus, with family in tow, as the squad returned home on Sunday with its Tier II banner. TIMES PHOTO SUBMITTED BY CHRISTINE MYKYTIW
By Greg Price
Taber Times
gprice@tabertimes.com
When it comes to the Taber novice Oil Kings winning its Tier II Central Alberta Hockey League championship banner, they definitely did not take the road less traveled.
It is estimated, the dedicated group of players, coaches and parents travelled approximately 4,200 kilometres on a season that saw it go 14-0-1 in its regular season, and earned a bye in the first round of playoffs.
"We had a pretty crazy travel schedule. The manager had it worked out to around 4,200 kilometres travelled. That's crazy for eight year olds to be doing that. That some dedicated parents and kids," said Chad Wiebe, head coach of the Taber novice CAHL Oil Kings. "Everyone showed up for practice and the games with a lot of miles travelled. In comparison, I have an older kid on the atom team, and they were at like only 1,000 kilometres. It just happens to work out with what tier you are playing in. They don't do it geographically, they want it competitive, and you play where you play."
The team was able to rest its weary heads for one game, where the team played its banner-clinching game in Carstairs and had the creature comforts of a team bus for bonding among parents, players, coaches and relatives.
"It was a Taber Minor Hockey Board approval where we got to spend our teams funds that we raised for 50/50 and stuff. it was nice to have for our last kick-at-the cat," said Wiebe. "We knew we had home-ice advantage for the playoffs, so we knew we only had to go there (Carstairs) once. So we thought, let's try it and we had just enough money to rent the bus. It's was really nice having everyone together along with their siblings who were wearing jerseys."
Saturday saw the Oil Kings beat Carstairs 9-2 at the Taber Arena.
Delphin Deboer had a six-point game, with four goals and two assists. Lincoln Wiebe had two goals and an assist. Dane DeGraw and Julian Woordman each had a goal and two assists; while Nathan Gensorek had a goal and an assist. Ethan Volk and Madix Miller each had two assists, while Nate Kramer had a single assist.
The team travelled to Carstairs on Sunday and earned a 4-3 victory in overtime, with DeGraw scoring a game and banner winner at 1:44 in the extra period. DeGraw, Miller and Wiebe scored the three goals of regulation.
"They just played hard, even in practice. They didn't goof around like you see with some teams. They were all there to learn and win. Being buddies at school certainly helped too," said Wiebe. "They were a pleasure and easy to work with. For whoever came out, they were a fun team to watch. For that level, it's nice to see."
Last year, the team earned the Tier III novice banner for the 2017/2018 hockey season.
"At the start of the year, say early October, you pick your team and then you have six to eight games where the hockey association plays at the level you think you are. After say those first four games, you re-tier depending on how you've done in those earlier games," said Wiebe. "After the dust has settled in those eight games, the CAHL tells you what they think you should be at and say you thought you were at a three (tier), but they think you are two and they ask if you agree. It's a bit of an honour system at the start."