Cline earns world accolades with Nikki
Posted on March 6, 2019 by Taber Times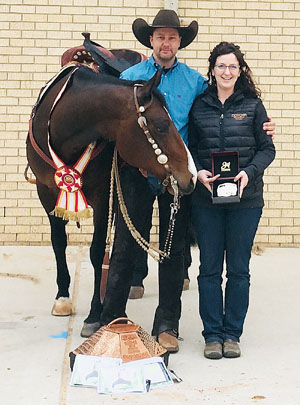 HORSING AROUND: Stephen Cline and his wife make a happy couple, as the duo travelled with their horse Nikki to compete in the National Reined Cow Horse Association's Celebration of Champion, where Cline rode Nikki to some impressive hardware. TIMES PHOTO SUBMITTED BY STEPHEN CLINE
By Greg Price
Taber Times
gprice@tabertimes.com
The bond between Stephen Cline and his horse Nikki looks to be as strong as ever.
Cline hit the road for a 2,700-kilometre drive with Nikki to Fort Worth, Texas, to compete in the National Reined Cow Horse Association's Celebration of Champions where the duo earned the title of Reserve World Champion and National Champion for cutting in the Novice Non-Pro Bridle category.
This past competitive season, Cline was quite active, participating in 22 shows across Canada and the northern portion of the United States.
"I've been riding without a trainer and my first show last year was in Las Vegas and got reserve champion there. And now I can't compete in this class anymore now that I've won it, I have to go up to a higher level of competition now," said Cline.
The event in Fort Worth had plenty of drama in it for Cline and Nikki as the Taberite barely escaped the preliminaries where the top 10 riders moved onto the finals where everyone started off with a clean slate in the battle for the title.
"Actually, it was a funny story. There were 40 riders who entered that class. When it was all done (preliminaries) they said I was in 11 spot and found out later that day that after they tallied my point wrongs. At first, I was out of it and not coming back, and then they made an announcement that they counted my scores wrong and I was in that last 10th spot," said Cline. "I didn't have the best run on my prelims, hence why I was 10th. But coming back to the finals, I really concentrated on it and trusted my horse and tried to do our best and we did."
Cline and Nikki held on just long enough for their impressive run.
"Right after they blew the whistle to call me off to say my run was done, my horse tripped the exact same second they blew the horn and I ended up falling," added Cline of the razor-thin difference there can be in helping run cattle effectively in a competitive setting.
Cline loves riding with his horse Nikki, who surprisingly at first did not look to have a future in herding at the time of purchase.
"At the time, our horse was terrified of cows, so I sent her to a trainer in High River for a couple of months just to get used to cows because I didn't have access to cattle," said Cline in an earlier interview with The Times. "After a couple months, the trainer called and said 'We got something really special here' and wanted to see how she was going to progress. She took right to it and had a lot of natural talent."
That talent has led to a strong bond between them to where Cline notes he competes just as much for her.
"The love of the horse. I do it for her. I have always felt she was pretty special and pretty good at what she does. This is a way to show everyone how good she is to me," said Cline. "In the end, it didn't matter to me how she placed. In this industry, if someone from a small town like Taber can do this, it involves time and a lot of devotion. I did this for her to show she is a proven mare."
Cline and Nikki will continue to compete this year at the Canada's Greatest Horseman which will require him to rope also, along with perhaps taking another crack at the Calgary Stampede.