Trout Pond open in winter season
Posted on February 27, 2019 by Taber Times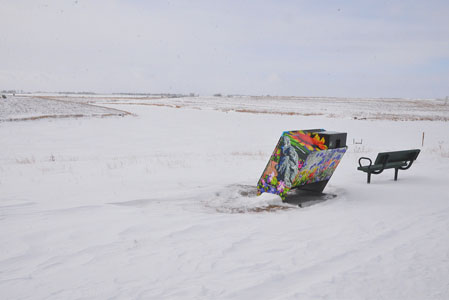 ICEMAN COMETH: For those wanting to brave snowy and cold conditions, they can walk the Trout Pond area, after there were initial reservations to keeping it closed in winter. TIMES PHOTO BY TREVOR BUSCH
By Greg Price
Taber Times
gprice@tabertimes.com
While there were hesitations at first, the Trout Pond area has now been opened to the public year round.
Recreation board chairman Danielle Hansen had noticed plenty of foot traffic around the area despite earlier attempts by the town to close off the area parking lot due to liability concerns and also lack of snow clearing, making the area tough for residents to navigate.
"Two or three times I went out there with our team and found every time I went out there, there were vehicles parked in adjacent properties just outside the gates. It was being used even when it wasn't open," said Dawn Phillips, director of recreation at the Taber Recreation Board's Feb. 7 meeting. "I talked with Cory (Armfelt, CAO) at one of my meetings that people were complaining that people were parking on their properties, so he gave direction to open it up."
The town is getting signage and has been putting on social media indicating that the area is not being monitored, having people enjoy the area at their own risk. The parking lot will be maintained as best as it can, but trails will not be cleared at this point.
"We don't have a budget for it, so we will see how it goes," said Phillips. "The signs will have the ice safety on it and all the diagrams on it. They are using the trail and it's sort of a new dog run. We are putting use pond and trails at own risk. We want to educate through social media to say we are not maintaining the trails (during winter)."