Rebels girls take another tournament title
Posted on February 27, 2019 by Taber Times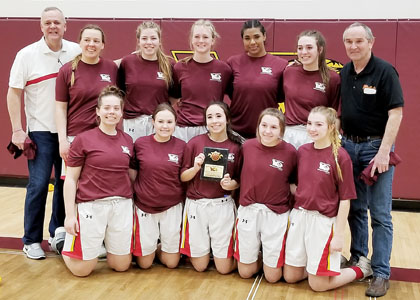 QUEENS OF THE COURT: W.R. Myers Rebels varsity girls basketball team beat provincially-ranked teams on their way to the tournament championship title in Wetaskiwin. TIMES PHOTO SUBMITTED BY KENNEY WOOD
By Greg Price
Taber Times
gprice@tabertimes.com
W.R. Myers Rebels varsity girls basketball team is beaming with confidence as the team continues to prepare for 3A South Zone competition.
The Rebels got some much-needed momentum by taking the tournament title in Wetaskiwin this past weekend in a very deep field.
"Seven of the eight teams in the tournament were ranked in the top 10 provincially, so we knew we wouldn't have an easy game," said Kenney Wood, head coach of the W.R. Myers Rebels varsity girls basketball team.
It was host Wetaskiwin the Rebels battled in the championship final, as a strong fourth quarter propelled the Rebels to an 81-74 victory.
"It's always fun to play against the home team in their tournament and this game was no different. We were behind, but just by a bit in the first three quarters. They are a very skilled three-point shooting team, but we just hoped that their legs would give out in the fourth," said Wood.
"We were able to make them work extremely hard on defence and in the fourth quarter we outscored them 21 to 13. When we let our plays work for us and move the ball, we are an extremely tough team to defend. The coaching staff is very proud of the way they played this weekend, and hopefully continue to see them use their basketball brains to be the smartest team on the floor."
Kitawna Sparks had the double-double of 32 points and 10 rebounds. Alex Haller poured in 20 points and Austen Robbins added 12. Dani Wright was strong on the boards with 15 rebounds.
The Rebels kicked off its championship run with an opening 71-49 victory over Strathcona Christian.
Sparks netted 25 points to go with 12 rebounds. Wright had 10 points.
"This tournament was a huge one for us. We had to work very hard in every game. The first game we were pretty rusty. With no school this past week and only a couple of shooting practices, we had to find our game back," said Wood. "Everyone was able to play some solid minutes and contribute in the game. We were able to build a lead in the first quarter and then continued to stretch the point gap in each following quarter."
The Rebels earned a championship appearance by vanquishing familiar foe McCoy Colts 68-50 in the tournament semifinal.
"We never count them out, no matter what their coach says. McCoy came out very aggressive and we had to work extremely hard to keep our small lead," said Wood. "In the third and subsequently the fourth quarter, we were able to move a ball fairly well and got some good looks which we converted into buckets. It's always a fight to get a win against them."
Three players finished in double-digit scoring, including Sparks who had 23 points and 11 rebounds. Haller had 13 points and Wright chipped in 10. Abby Wood hauled in 10 rebounds.
W.R. Myers Rebels varsity girls basketball team continues its Southern Alberta High School Girls Basketball League regular season at home with two games. The first being against Catholic Central Cougars today with junior varsity at 6 p.m. and varsity to follow at 7:45 p.m. Seniors Night goes on Friday against Winston Churchill Griffins, with JV at 6 p.m. with varsity to follow. The Rebels end its regular season on Saturday with a road game against Magrath Pandas.
Barnwell School will be hosting 3A South Zone girls competition from March 4-9.